Art Event at Convention Center This Weekend
The nationally recognized artist Christopher Clark is hosting a free art event from October 1st to October 3rd at the Convention Center in Denver, Colorado.  
It's open on Friday from 5-9 p.m. and on Saturday and Sunday from 12-6 p.m.
The event is free, but they ask anyone who wants to attend to register as attending on Eventbrite and on Facebook.
The event features a variety of art from different interests. These paintings have many different characters from shows and movies, some of which are made by Christopher Clark, while others are made by the Bucket, who does parody art.
"This is a show similar to a mini ComicCon featuring art from Star Wars, Disney, Marvel, Lord of the Rings and Anime," Charlie Bucket said. "However, unlike ComicCons where attendees pay in excess of $100 a day to attend, our event is free."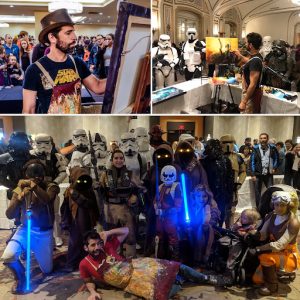 Paintings made by these artists will be given away and can be signed or embellished by the artist during all three days. All someone has to do is share the event on a Facebook timeline, or tag a friend on Instagram, and show them at the event to get their free art.
Art isn't the only thing available as members of the 501st legion, people who dress up as Star Wars characters, will be attending the events in costume as well.
If interested in attending you can go to Eventbrite: Free Art Exhibit and register.