Dakota Ridge Theatre Department Returns for the 2021-22 Season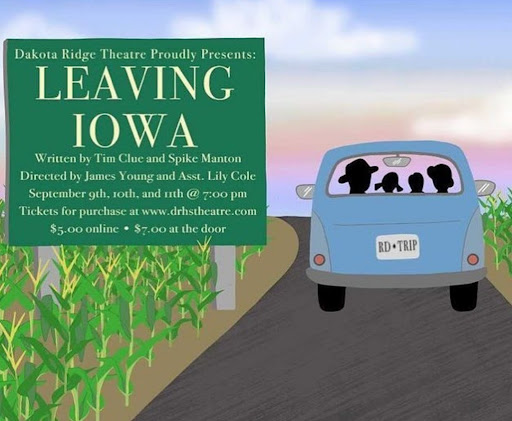 With the return of the new school year comes the return of the Dakota Ridge theatre department. This year's season kicks off with their production of Leaving Iowa, a comedic play about family vacations and returning to childhood memories long since locked away. With the chaos of last year's season, most notably the department's production of Radium Girls, a return to normalcy is a breath of fresh air for these dedicated high school students. 
As the coronavirus wreaked havoc across the globe, last year's season of theatre was hit particularly hard. The problems started to rear their ugly heads during the late autumn production of Radium Girls when statewide cases began to drastically spike after a brief recess in the prior months. The increase in cases to an all time high, combined with the occasional closure of the school for deep cleanings, led the production to undergo several delays until the show was finally live streamed on February 28th, 2021, 11 weeks after the original performance date of December 9th, 2020.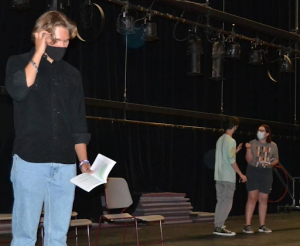 Covid cases decreased in late December of 2020 and remained relatively stable for the rest of the school year. Due to gathering restrictions and the prior delays, the department's original plan for a typical spring musical (originally School of Rock) had to be reworked into a cabaret style Night of Theatre combined with the traditional Senior One-Acts production, where seniors take up the director's chair for one final show before graduation. 
Once the summer began to draw to a close, the theatre department was back in action to tackle their production of Leaving Iowa before the school year officially started. Auditions were held prior to the ending of the 2020-2021 school year, so the small band of actors and technicians were ready to jump right in. 
One month later, all the hard work of the students is about to pay off, which includes the ability to perform in front of a live audience again.
Senior Evan Donelson, portraying the father and emotional center of the show, is happy to be back. "Being back is definitely an extremely amazing experience with everybody being able to be in the audience. We are really able to make it a show and make people laugh and feel their laughter and feel their energy," Donelson said. "[We] actually know that we're selling tickets and that people are coming to see our show. It's a really gratifying and fulfilling feeling"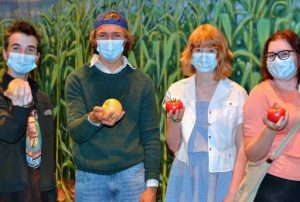 Every weekday for roughly two hours a day, these theatre students carved out time to memorize their lines, learn blocking, get the tech set up (involving a battle and a half to fix burnt out lights), and get back into the theatre mindset.
Senior Tony Caprero, portraying protagonist Don Browning, enjoys the return to normalcy. "It feels pretty good to be getting back in. I mean, with masks it's not ideal, but really anything getting back into the swing of it is fantastic. Especially having an audience will be so nice."
But what exactly is Leaving Iowa about? At its core, the show, written by Tim Clue and Spike Manton, is truly about family. Don Browning, a writer, is going on a journey to find the best place to spread his father's ashes. Along the way, he flashes back to vacations of the past with his father (Evan Donelson, 12), mother (yours truly, Olivia Hain, 12), and sister (Skye Sheehy, 10) including all the chaos that goes along with it. After a few present day mishaps on his journey, Don learns to "reconcile his past and present" as he searches for the perfect location to leave his father, while also leaving behind his past animosities and familial apathy bit by bit.
Aside from the rewarding feeling the show brings to its characters, it's also an incredibly rewarding experience for student director, senior Lily Cole.
"I've learned a lot and grown a lot as a creative thinker and as an individual," Cole said. "Taking on the leadership role that the position required was a big step. I'm really glad and I feel pretty fulfilled that I was able to begin this opportunity."  
Truly, the growth can be felt both within the show itself and with the people who helped put it together.
Leaving Iowa opens at 7 p.m. on Thursday, September 9th, and runs through Saturday, September 11th. Tickets can be purchased online through the following link for $5, or purchases can be made at the door for $7.
https://www.onthestage.tickets/show/dakota-ridge-high-school/leaving-iowa-10393