Eagles Take The Win In Florida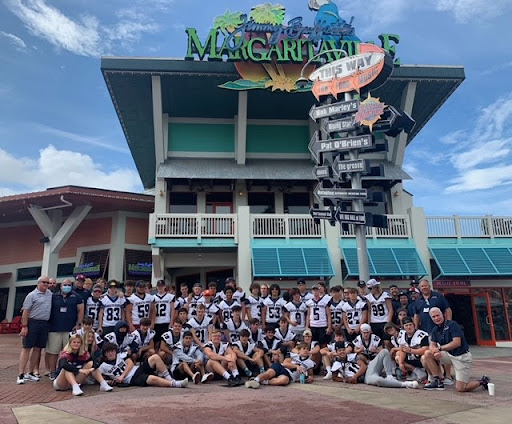 The Dakota Ridge High School football team came home from Florida on Sunday night as champions of the KSA Events, taking a 23-20 win against Florida's First Coast High School. 
Dakota Ridge quarterback, Adam Graves, scored the first touchdown of the game with a fake to running back Noah Triplett (11). With six minutes left in the quarter, Triplett made a 13 yard touchdown.  By the end of the second quarter the score was tied 14-14. 
After halftime, teams came back onto the field and continued to play with intensity. During the third quarter, First Coast High School punted the ball when Dakota Ridge defensive back Brandon Miller (11) broke the defense and blocked the kick which led to a touchdown 3 plays later. At the end of the quarter DRHS was up 21-14.
In the beginning of the fourth quarter, Isac Pingarron sacked the First Coast quarterback, creating a safety, making the score 23-14. The final score was 23-20 DRHS. At the end of the game Dakota's Adam Graves (12) received offensive MVP, while Cooper Damico (11) earned defensive MVP.
"The team we played was a very formidable opponent.  They were extremely quick and talented.  Throughout the game it was a challenge because they were so explosive. I can't point to one exact play, but for our kids to compete every play, and for our coaches to lead them in a positive manner throughout this adversity, was amazing," Athletic Director Matt Heckel said.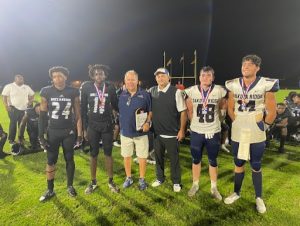 Many players said the memories that they gained from this journey to Florida are among the best of their high school experiences. Though this trip is meant for football, it is much more than that. 
"This trip is only a varsity game and JV game.  It is about creating team bonding, togetherness and having the players get a lifetime of memories from this trip" Coach Woj said.
Over the four day trip, players and coaches got to participate in other events such as visiting theme parks, a visit to Cocoa Beach, and team meals together that included several dance competitions. Throughout these events, the team did follow mask mandates to ensure safety and keep the rest of the season running smoothly. 
"The best part of the trip was bonding with my team and not only having fun on our trip but executing when it came time to play," defensive back Calvin Ward (11) said.
"We got to go to Universal Studios and Island of Adventures and that was one of the most fun experiences, especially being there with friends," Linebacker Brayden Cusick(10) said.
After a year of limited experiences, Heckel stressed the importance of the Florida journey.  
"This trip is important to me for Coach Woj, his staff, and our team to represent our high school and the Dakota Ridge community in a positive manner. I take great pride in our school and our community," Heckel said. "Many times throughout this trip I was approached by people we were in contact, with and they expressed what a great group of young men, outstanding coaches, and a fantastic school we have at Dakota Ridge."