Season D Update
The past year has been a crazy one, especially for the high school athletes. Student-athletes and coaches didn't even know if the 2020-2021 season was going to happen when school began, but so far most people have adapted well to the changes that have been provided. As season C is coming to a close, season D sports are preparing to start with the hope of having fewer restrictions.
"I'm most excited about playing. I lost my junior year and being able to play my senior year is a true blessing," senior Sophia Tavanello said.
Season D includes baseball, women's golf, men's lacrosse, women's lacrosse, women's soccer, women's tennis, track and field, cheer, and poms. Many of these sports are hoping to have fewer Covid restrictions as they start to begin, especially since there is supposed to be a new level, level clear, that lifts restrictions and allows 100% capacity. 
"Good news…May 16th Jeffco is going under the all-clear designation. This is supposed to make things better but we are meeting again on how this looks as it approaches," Dakota Ridge Assistant Principal and Athletic Director Matt Heckel said.
As of right now season D will generally have the same restrictions as season C. Masks are required for players, coaches, and volunteers at all times. During practices, a group of ten or fewer is advised while the season is going on and limited travel is recommended.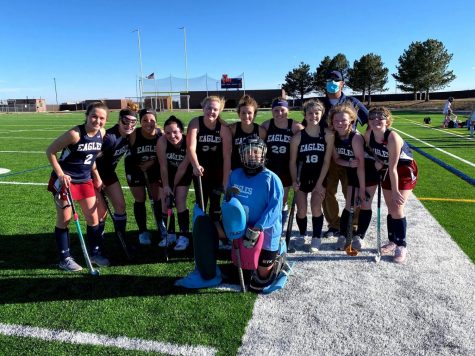 Fortunately, we are allowed to have four guests per player if they are playing at a stadium. If a team is playing at the school site they are only allowed to have two guests per player because there is a lack of space. On the unfortunate side, there is no student section as of right now.
"They must be on the prearranged guest list sent to the district the day of the game. All four guests MUST sit in their groups," Heckel said. 
Although there are many restrictions and requirements, we can hope that they will lessen. However, we all know that restrictions are always changing in the current state of the pandemic, so it is important to stay updated on the guidelines that are put into place. 
According to the CHSAA 2020-21 athletics and activities calendar, "Note that the resumption of all activities and athletics are subject to change based upon any changes to national, state or local guidelines."