DRHS Opens to Full In-Person Learning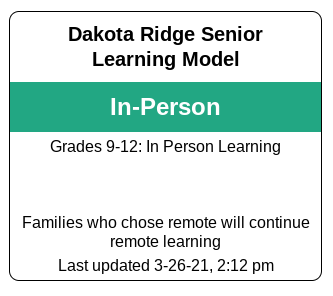 On April 5, 2021, Dakota Ridge High School Students returned back to school four days a week after a year of hybrid or remote learning. 
2020 was a crazy year. The pandemic stopped students from attending in-person schooling, something that has been a normal staple of most of our lives since kindergarten. But 2021 is bringing back some normalcy. Going back to school has its challenges, but mostly it is a welcome change in this world turned upside down. 
An important part of any teenager's life is being able to interact with others. The pandemic took this ability away from us, but coming back to school four days a week allows us to interact in the same ways we used to. 
"I really like being able to see my friends in person, even if I am not able to see them as much as I used to," sophomore Macy Gardner said. 
It seems to be a relief for many students to be able to see their friends again, even though our classes run differently because of the required social distance. 
Other students have some reservations about the crowds in the hallways.
 "Sometimes the hallways have a lot of people, I feel like that's not safe," sophomore Eva Benion said.
Overall students feel like they are learning more. Their teachers are able to teach more effectively in an in-person class, and in-person students no longer have to deal with the hassle of learning over Zoom. 
"I feel like the instruction is more clear in person. I like to be able to get help without having to wait for everyone to log off the meeting,"  Gardener said. 
Although there are more people in the classrooms, they remain safe, and you are less likely to get sick from short-term contact like in hallways. The current CDC guidelines for in the classroom suggest that students have at least 3 feet of social distance, in middle and high school settings, as long as masks stay on and transmission is low throughout the community. Our school is trying its best to enforce these guidelines. 
The only setback of the guidelines is that everyone sitting within six feet of a person with COVID-19 will have to quarantine. Once you are quarantined you can wait five days and get a Covid test (you can go back to school if it is negative), or you can quarantine for the full 10 days. 
As of Friday, April 9, 2021, Jefferson County has moved to stage yellow in the COVID-19 status dial, and while that doesn't mean all that much for schools, it does mean that transmission rates are going up in the area. 
"It is not going to change the mask mandate, nor how we run school or kids being in the building," DRHS school nurse, Amy Doolittle, said.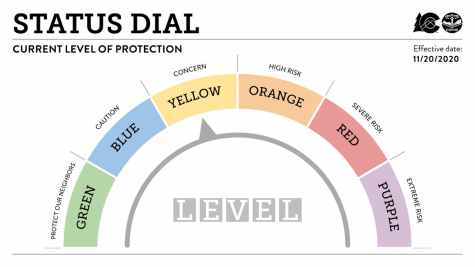 Transmission of COVID-19 within the community will not affect Dakota Ridge High School, but transmission within the school itself will. 
"It would take five outbreaks that would be linked and connected directly to Dakota," Doolittle said. 
If this were to happen, that would mean a two-week school closure to stop the spread of the virus. These outbreaks could be in a sports team or inside a classroom, there just has to be proof that they are connected to the school. 
As of right now, Doolittle seems optimistic, "I don't foresee a closure happening because we are working really hard to keep kids home when they are sick." 
Students are happy to be back in the building, and learning in person with their friends, so if you are sick, stay home, and follow all quarantine protocols.