Missing Man Found February 6 at Bottom of Reservoir
Missing man Graham Hebert was found on Saturday, February 6th at Blue Heron Park, lifeless at the bottom of the reservoir.
30-year-old Hebert had suffered a traumatic brain injury and lived at an in-care facility about one mile from the lake. 
Hebert went missing on New Year's Day and was found in the lake on February 6th. It wasn't until February 7th when first responders were able to retrieve his body.
For just over a month, only friends, family, and other volunteers were on the search for Hebert. These volunteers brought an inflatable kayak and a drone, along with other materials to the lake. The drone that finally spotted Hebert, according to Jefferson County Sheriffs Office (JCSO), was from Colorado Parks and Wildlife (CPW).
According to 9News, Blue Heron Park was one of Hebert's frequent places to walk around, leading his family to search that area after he went missing.

The staff at Hebert's in-care home mentioned he'd left that day (New Year's) in "not a good" state, also not entirely dressed, as reported by Fox News. 
They called the sheriff to check on Hebert, but there was no clear indication of self-harm or other issues when they contacted him. 
The investigation on Hebert's case is still ongoing, though it does not seem to be an entirely mysterious death with the evidence they have so far.
Missing at Risk Adult

This morning 30-year-old Graham Hebert walked away from an elder care facility in the 10000 block of West Berry Drive. Graham is 5'8", 160 pounds, has brown hair, and green eyes. Graham was wearing a dark green coat, blue jeans, and a hat. pic.twitter.com/IJ9o1ND7Uz

— Jeffco Sheriff (@jeffcosheriffco) January 25, 2021
The dive team from West Metro Rescue recovered Hebert's body; however, reaching him was difficult due to the layer of ice and murky water. 
According to CBS News, cadaver dogs were involved in the search, Alan Duffy (handler) claiming they had picked up Hebert's scent. 
Those living in the Blue Heron Park area communicated concerns and updates through the Nextdoor App, alerting people at first of Hebert's missing status, then providing information on his whereabouts.
Dakota Ridge parent Debbie Peterson stayed updated through Nextdoor, and viewed some original searching for Hebert while on a walk.
"The first thing I noticed was missing person signs at every entrance," Peterson said. "There was a man in the middle of the lake almost, and he was focusing on breaking the ice with, like, a sledgehammer… making a small trail through the lake."
With Hebert found, his family's search has ended. They do, however, still look for more closure of how this could have been prevented or handled differently and more efficiently.
"I would be devastated," Peterson said about Hebert's situation theoretically occurring to someone she knows. "I just feel like as a community and as a neighborhood, we all need to support each other… It's just unimaginable."
About the Writer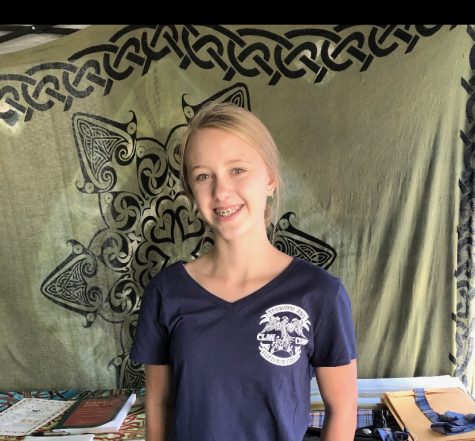 Avery Purcell, Staff Writer
Avery Purcell is a sophomore at Dakota Ridge Senior High School. She loves to travel in the mountains and learn more about the environment. She hopes to...