Milos Jankovic Constructs His Own Success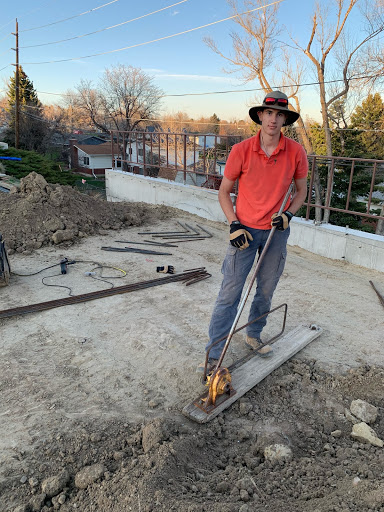 Jazz band; high school swimming, tennis, and basketball; robotics team; IB honors program; skiing; mountain biking; and 2019 Homecoming King. Tired yet? Somehow, junior Milos Jankovic manages to thrive at all he does, acing his tests and his games. 
One more thing – he's building an entire office building – from scratch. 
"Honestly, I'm really passionate about building science and stuff like that. So if I'm doing homework, and I've been doing, you know, maybe like a textbook reading for like an hour and a half, I'll stop and maybe go watch some construction YouTube videos or read something new that came out," Jankovic said. 
Jankovic's methods of refreshing are not the typical teen's forte. His fascination with construction has led to years of hard work on his and his father's two-story office building, mistakes and accomplishments filling the journey. 
"Ever since we started planning, which was when I was in seventh grade, was when I read a lot of codebooks. Like, I read the whole international building code," Jankovic reminisced.
Lesson of the day: Do your reading.
"That allows me to have the knowledge, even though I've never done construction before."
Constructing a building is no walk in the park. Before the physical labor can actually begin, planning, financing, permit and insurance research, and site preparation must be completed. Part of the financial process is figuring material costs and preparing for as many outcomes as possible.
"I had to be on phone calls, trying to get the lowest price possible on materials. Like, the first guy you call, the pulleys were a hundred bucks apiece, and then I got it down to, like, forty-nine bucks apiece after calling, you know, twenty different vendors," Jankovic said.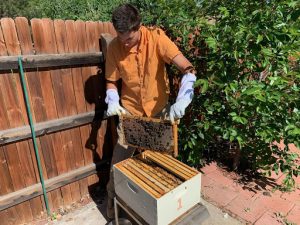 It's not common to consider the sweat and labor that is soaked into the walls as one walks through a building. The HGTV make-over ideal makes even the setbacks seem like all part of the fun. Yet, there's so much to learn from the slip-ups and tough periods in the process. 
Lessons present themselves to Jankovic, whether he likes them or not. One such lesson came with constructing the retaining wall for his building three years ago. The hole was dug, and the rebar (a metal cage that concrete is poured over for stability) was set. All seemed well until the weather struck. 
With rain having dumped dirt all inside the holes, Jankovic and his father had to lift out the cages with an excavator and pressure-wash it all at a car wash. They then had to dig deeper into the holes by hand to reach solid soil, with the machines unable to access it. 
Jankovic's progress thus far is clearly no small feat. As he reflects, "There was probably, you know, the most mistakes or setbacks that can happen during the construction process that happened with us."
Beginning with just the walls, even the slightest mistake can cause large repercussions. Jankovic and his father set the walls to the side of the foundation, but they realized too late that the floor trusses (lumber beams connecting metal plates) in their plan wouldn't sit with the wall. One entire twenty-foot wall had to be moved one inch so the trusses could fit perfectly.
"In the future, I know to measure out everything exactly," Jankovic said. 
He uses all opportunities to improve and learn. Faulty plumbing from a professional inspired him to discover more about the industry, even creating his pursuit for a plumbing license as soon as he reaches the required age.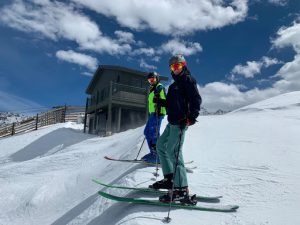 The end goal for Jankovic is a place to rent out space for businesses and to allow his mother to open her own dental practice. Originally from Serbia and Montenegro, Jankovic grew up speaking Serbian and continues to return annually to visit family. 
One might say it was a luck of the draw for the Jankovic family to have ended up in the USA. Literally. 
Jankovic's parents won a green card to the US in a Belgrade lottery drawing, landing him in Colorado, with thoughts of attending the Colorado School of Mines or even MIT. Jankovic hopes for a basketball or tennis scholarship to college, giving him a reason to continue working hard. 
With Jankovic's high work ethic and prioritizing mastery, a scholarship doesn't seem too out of reach.
The Dakota Ridge head tennis coach, Rick Lathrop, experiences positive influence from Jankovic even in the blazing heat and pressure of the courts. 
"He is a player that the younger teammates really look up to," Coach Lathrop said.
Even through the turmoil of Covid-19, Jankovic continues to succeed, being voted in as co-captain of the boys' tennis team and playing hard in basketball. 
Jankovic admitted even he was proud of his ability to keep his busy life in order. Through thick and thin, Jankovic's unrelenting determination prevails to his clear success. 
"I think it's unbelievable, what I've done," he said. 
His construction was halted as Covid-19 caused a spike in prices on labor and materials and available workers dropped. This took an unexpected turn, proving again to be another opportunity Jankovic would take up. 
"I did all the framing, the concrete works, roofing, everything," he said. 
This high school success story might be intimidating, but it's all a matter of perspective to Jankovic. 
"If you really want to do something, you know, anything's possible… when I started, I wasn't even in high school, and I built… an office building."
The Construction Process:
About the Writer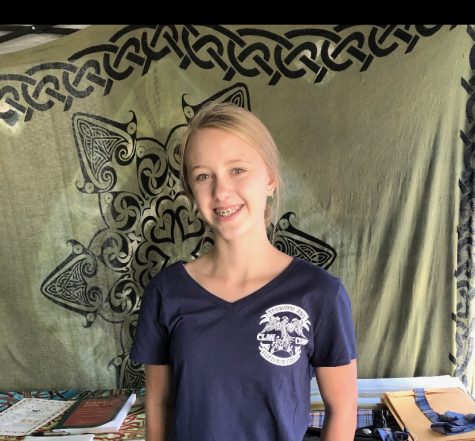 Avery Purcell, Staff Writer
Avery Purcell is a sophomore at Dakota Ridge Senior High School. She loves to travel in the mountains and learn more about the environment. She hopes to...