Halloween 2020 Masked Up for Change
Halloween 2020 may have been the spookiest yet. With only a few trick or treaters roaming, closed down streets for social distancing, the eerie quiet from many darkened houses, and nearly everyone sporting a mask, one would find the whole experience to be an excerpt from a science fiction novel. 
For those who did go trick or treating, the experience was quite the change from past years. 
"Most of the houses we went to, either someone was handing candy out, or there was just a table with goodie bags," a third-grade student said. "One even had Baby Bottle Pops and another had giant Kit Kats!"
With the inevitable decrease in trick or treaters, some households were able to splurge and spoil the few who did come around with king-sized candy bars or fun treats.
Many left the candy out in front of their houses, willing to risk the potential mischievous kids who dared to take it all. Others just wore a mask and gave out the treats by hand, attempting to hold on to beloved traditions.
This could not be enjoyed by all, however, as many people opted to remain at home to avoid further spread of Covid-19. 
The CDC recommendations entailed refraining from attending haunted houses, congregating in crowds, and even handing out candy. 
Families were forced to get creative. Some prepared candy scavenger hunts for the kids, while teens chose to lay back and hang out in small groups.
"A couple of my friends came over to my house and we watched a movie and ate candy," Dakota Ridge sophomore Eva Bennion said.
Even with these small festivities, the full moon, the Saturday occurrence, and the addition of daylight savings created the ideal Halloween that taunted those who couldn't enjoy it.
"I'm sad that we couldn't fully experience Halloween this year," Dakota Ridge sophomore Sarah Schroeder said.
This change in traditions in 2020 brought down the spirits of people just looking forward to the return of normalcy. 
Many made the most out of their holiday, however, with large Halloween feasts and quality time with family or friends. Some houses went all out in decorations to spread the holiday fun, and others made sure all the candy was prepared for the trick or treaters. 
"I feel like with the circumstances it was okay, like people still decorated and made it fun for the little kids while still taking precautions," Bennion said.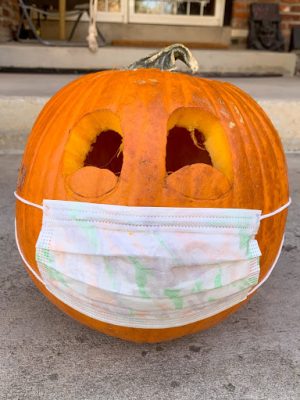 Even so, like those who want 2020 to be over, Halloween seemed to leave the year quickly. 
Within a couple of days, many decorations were put away, with stores and even some homes beginning to decorate for Christmas.
"It's like Halloween never happened at those houses," the third-grader said. 
With the challenges and changes of the 2020 Halloween, it still managed to perform its role and bring joy and candy to many. 
Schroeder summed up the experience.  "I had a great Halloween… even though it was different."