Dakota Ridge Varsity Football First Game Success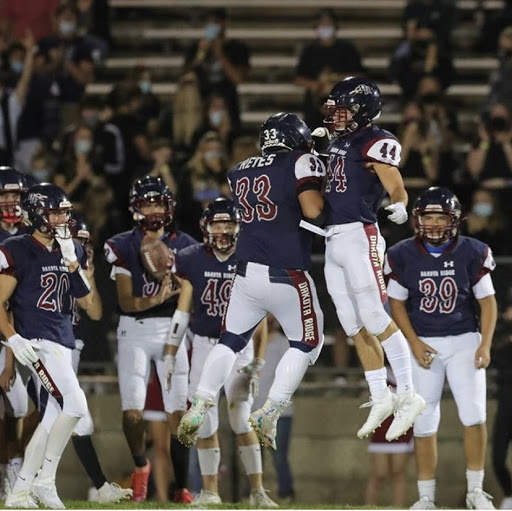 In the first game of the season, the Dakota Ridge varsity football team beat Grand Junction Central 65-12 at Jeffco Stadium on Friday, October 9th. This season the Dakota Ridge varsity team has high expectations and is expected to go far with many talented young players on the roster.
"We have returning starters back from the team who lost in the semi-finals last year, so that increases the expectations to be good," DRHS coach Ron Woitalewicz (Woj) said.
Last season Dakota's record was 8-2-0 compared to Grand Junction's record of 5-5-0. This hinted that DRHS was expected to win Friday night's game. 
"I expect us to be great this year and make a good run for the 4A title," sophomore offensive lineman Jack Rons said.
For Dakota Ridge High School, the first football game of the season went well as they took the lead early in the game. In the first few minutes, the score was already 14-0, which had been scored by seniors Charlie Offerdahl and Ben Gultig. Dakota's offense executed the plays with finesse, and the defense halted any ball that came their way. 
Although Grand Junction Central put in a great effort and dealt with some challenges that would have made it hard for many other football teams, their effort just wasn't enough to take the victory. Their senior quarterback Michael Gohn was out for the night and in place of him was sophomore QB Devin Hickey.
Though Grand Junction Central was down, Hickey threw a 79 yard touchdown to make the score 14-7, and right after that Javian Hernandez made an interception going all the way down the field to make it 14-12. 
After the 1st quarter ended 21-12, Dakota took matters into their own hands and scored 4 more touchdowns in the second quarter. By half time, the score was 51-12 in favor of Dakota Ridge, and by then the DRHS varsity defense had forced 4 turnovers in 5 possessions on Grand Junction.
"At the end of the day it's the players who make a statement and decide what happens in the game," sophomore offensive lineman Tyson Smith said.
In the 3rd and 4th quarter there were many more forced turnovers giving Grand Junction no more touchdowns by the end of the game, and Dakota scored 2 more touchdowns leaving the final score at 65-12.
Dakota Ridge coaches tried to do their best over the summer to train the football players with COVID-19 protocols in place. In order to keep everyone safe and healthy, it took a team effort to obey these protocols.
"It feels so good to be back coaching and being around the kids," Coach Woj said.  "Our players are so happy when they come to practices because it gives them some sense of normalcy and a chance to have fun and be a kid again." 
The coaches and students focused on working together.
"The training before this season was weird, but we are all just thankful we could prepare for a season and hang out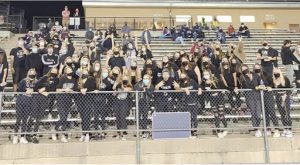 with our friends and get better," sophomore running back Noah Triplett said.
The DRHS football team is thankful to have their teammates and friends by their side in these difficult times. 
"The district and health departments just have taken so much away from these young men, that to get this opportunity and see them smile is so satisfying," Coach Woj said. "I am so grateful for the opportunity to see them happy again."