Teachers Are Dealing With COVID Changes Too
Question and answer with Tiffany Briggs who shares her views on teaching in the new school environment.
How did you prepare for the first two weeks of this semester?
"Well, I created a Google classroom, first of all, for each one of my classes. Plus I'm part of my co-teachers' Google Classrooms, and I also have the Google classrooms for a number of teachers in which some of my students are in their rooms on-campus. I think I probably have about forty Google Classrooms that I have my hands in this semester. How did I prepare for that is a good question. I was trying to digitize things and also build in things like questionnaires so that I could ask my students about themselves."
What were the struggles of teaching remote learning for the first two weeks?
"I actually think the first two weeks were easier because we had the experience of some remote in this spring. What I'm finding is that it's harder now because we're not only teaching remote kids, but in person, and then kids that are full remote too. We have the hybrid we see every other day, and then we have all remote kids, and trying to teach in all three forms is what's harder."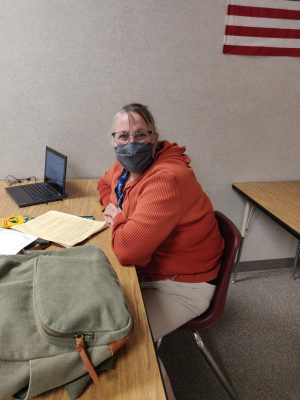 What's difficult about hybrid classes?
"Well, the fact that you have to decide — am I going to teach the same thing to one group one day and then the following group the other group gets it — or are we going to project it so everybody's getting it out at the same time? Making those decisions is really hard. And then making sure that students who are not here, if everybody's getting the same instructions, in-person and remote, all at the same time.  Making sure that those remote students are actually engaged is really hard."
Do you find any advantages to hybrid classes?
"No. In all honesty, I can't find an advantage at all. Well, okay, if I really wanted to dig deeper, if you're not doing the same instruction to both students simultaneously. If we do it, one day group A gets the instruction and group B the next day gets the same instruction in person. If you're doing if that way, the advantage is smaller, like, right now I have only five students live instruction. So teaching five kids is way easier than teaching, you know, twenty, right? So, that would be easier, but it depends on how you set it up."
Is there any advantage to remote classes?
"Well, personally, I actually think I like remote, and I would've as a student, like you guys, preferred it. But I was also a student who was easily able to handle their own direction. I like working at my own pace, so if things are set up and the student has that ability, there is an advantage there. But I don't think most students, especially younger ones, have that." 
Are there any classes you've had to give particular special attention to when teaching, because of the current circumstances?
"This class (ACE) in particular, is like a Study Hall, except I'm teaching them. They're just not sitting in my room, and so we spend a lot of time going into their other classrooms to see what they've forgotten to do or didn't do correctly, then trying to remediate it. So it takes a lot more effort."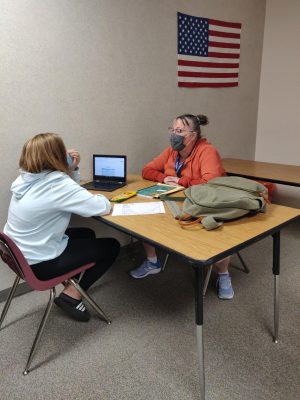 Do you have any methods that help you with remote teaching?
"I try to help my students organize their day by giving them blank calendars to fill out at the beginning of each week, so they can put down the things they need to do. So, I think from my student's perspective, there are tools there if they're willing to use them to help organize themselves.
For me, I'm willing to try new things and I'm willing to play with the tools. And so I think my own willingness is an advantage. I will go out and learn what Actively Learn is, and I will go out and figure out Learning Ally. Desmos — I was learning Desmos in math this morning while helping Ms. Peronard, and I've never used that. So the fact that I'm willing to learn to use that so that I can then show my students how to use it is an advantage."
Do you prefer teaching remote or in person? What do you like about it?
"Well I prefer in person in a normal environment, but right now, I would prefer remote. I'd prefer if we went with one format only.  Because having to plan for three different types of classes is really draining, and trying to manage everything is really draining, and I think that we're more effective if we're more focused on one format only.
What do I like about remote? Well I don't like it, I just think it's the best situation right now. I guess if I were to say what I like about it is I actually take classes myself. I'm finishing up my third graduate degree remotely. So it's a comfortable thing to me, but I think that I could make students more comfortable with it if I had the time. "
What do you wish students knew about the life of a teacher in this new environment? 
"Well, I wish they understood how much time and energy goes into planning for them. Like, there's sixty to seventy hours of work a week right now — easily.  Between grading and planning for three different methods, modes of teaching, and then for my role, particularly, I have to keep track of where all the students' grades are, their goals, are we working on those goals, and how are we doing with those goals. It just amplifies everything. For my general-ed cohort teachers, I really feel for them, because it's incredibly stressful. Like, I knew my job is stressful, but I think it's even worse for the general education teachers right now because they worry about making sure that they're hitting their benchmarks with their students."
What do you hope to accomplish this semester?
"I hope my students are at least, if nothing more, happy. Honestly, we've all just been so stressed out, and I think we need to also worry about our mental health too. So, for instance, these guys, I've already told them halfway through the block today, we're brain dead, it's the end of fourth block, we've not had a break. We're going to take a walk around the building. And I think that'll help us come back and then focus for that last portion of class. I think things like that are really important. "
Any final thoughts or words of wisdom for students?
"As silly as it is, I hope that students really take to heart, please don't go out and start doing all the things. Wear your masks, don't get in large crowds, because if you guys do that, then it will help your parents recognize as well that it's important not to do those things, and maybe we can finally get beyond this to where we can get some normalcy again. Everybody laughs, but I have a student with COVID right now, and I have had family members with COVID, and it is a real thing, and it's super scary. So try to avoid it, let's be careful."
About the Contributor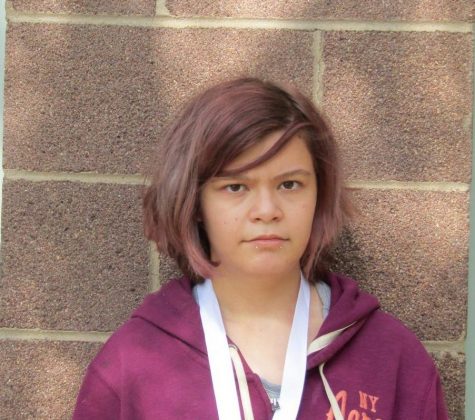 Margaret Young,
Margaret is a staff writer for The Cord in her senior year. She joined journalism to improve her writing, although writing is just a hobby for her. She...