I Am Not Okay With This–Remarkably Okay
March 4, 2020
Sydney Novak (Sophia Lillis) is seventeen, her father has just died, and her life seems to be a series of pitfalls. She also has telekinetic powers. Welcome to I Am Not Okay With This.
Released to Netflix on Feb. 26, the TV show features seven, roughly 20 minute long episodes that catalogue the narrated diary of angsty Syd Novak. Produced and directed by Johnathon Entwhistle and Christy Hall, who worked on The End of the F***king World and Stranger Things respectively, I Am Not Okay With This slots itself into place as one of Netflix's rare and memorable jewels. 
The show takes place in the fictional town of Brownsville, Pennsylvania, which is host to weed-riddled sidewalks, abandoned train tracks, and the decayed charm of small-town Western America. Sydney Novak, who's played by former IT actress Sophia Lillis, is trapped, angry, and in a vicious state of mourning after her father's suicide. Brownsville acts as another pothole for the teenager, and the shadowy, deep brown tones of the town mesh beautifully with Syd's internal conflict.
I Am Not Okay With This is timeless, set somewhere between the '80s and the early 2000s. It bleeds with nostalgia, but the real shine of the show comes from its characters. 
Lillis' performance as Syd is magnetic. The curl of her shoulders, the uncomfortable lilt of her voice, and her sharp tongue all reek of teenage awkwardness, which Syd seems to be chronically cursed with. Her telekinetic powers spoof Stephen King's Carrie, but don't exhibit a girl crazed by trauma and religious fire–rather, they exhibit a young woman whose isolation spills out from her in the form of cracking walls and projectile bowling balls. Syd personifies the restless anger of all teenagers, their anger at the world and at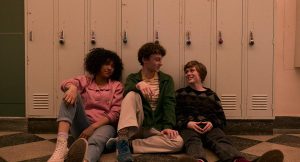 themselves. Her powers don't act as another cliche, but as an emphasis on how growing up sucks and growing up different sucks worse.
Counter to Syd is the enigmatic and eccentric Stanley Barber (Wyatt Oleff). His opening scene is a waltz and possibly the most charming character introductions to ever grace a show. After first meeting Sydney, Barber leaves with a graceful bow and a casual "what a world we live in," which sets up the curious dynamic Stanley and Syd have throughout the show's running. As the two main characters, Stanley and Syd's relationship is the biggest turn-on for the series. Their conversations are raw, honest, and weird — chemistry no doubt from the actors' previous work together on the horror film IT. Their friendship is unforced and refreshingly intimate. 
The handful of side characters in I Am Not Okay With This carry less magnetism than the two leads, but don't inhibit the show's impact. There's Dina (Sofia Bryant), Syd's best friend and love interest. She has all the traits of an outgoing, endearingly ditzy golden girl, and it's unsurprising Syd is hopelessly in love with her. However, Dina and her boyfriend Brad Lewis (Richard Ellis) float in shallow territory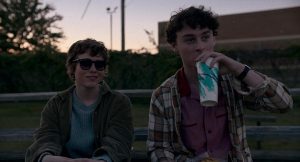 character-wise. They seem underdeveloped and more plot points than real people. Syd's mother (Kathleen Rose Perkins) and her younger brother (Aidan Wojtak-Hissong) mirror Syd's own loneliness, but are shadows of fully-developed characters. Despite this, I Am Not Okay With This still creates a sense of realism and never strays too deeply into the realm of deathly flat characters.
This show could have fallen short. The premise of a teenager in a small town, dealing with the death of a family member and some untapped power is not new or especially unique. What makes I Am Not Okay With This stand out among the flock of cheesy and cringe-worthy coming-of-age stories is its ability to focus on the niche of the characters and how they interact with each other. I Am Not Okay With This is touching, funny, and mean. It is subtly dark, riddled with unrequited love and hurt, but also consolation — such is life. As Stanley Barber expertly put it, what a world we live in.
I Am Not Okay With This is a must-see.