Editor's Corner: December Picks of the Month
December is always a month of festive lights, family, friends, and new favorites. 
Ella's Picks:
Favorite Song: "Hung Up" by Madonna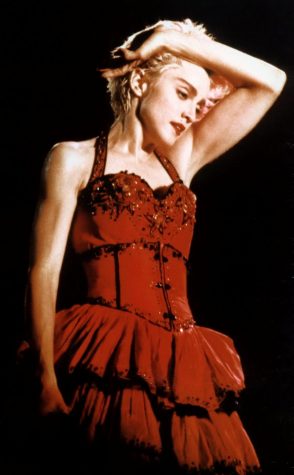 Although this song wasn't released in December (rather, it came out 15 years ago), it was a defining song of the month for me because of the electric energy it infused into the gloominess of finals week. Back in 2005, Madonna knew that her new album needed a touch of disco, so she asked Benny Andersson and Bjorn Ulvaeus, writers for the Swedish band ABBA, if she could sample part of their track "Gimme Gimme Gimme (A Man After Midnight)" in the album's title song. She was granted rights by Andersson, who allowed her to use the sample because "…she has got guts and has been around for 21 years. That is not bad going." The song is pure Madonna–glittery, upbeat, and easy to dance to, making it a spectacular way to re-energize.
———————————-
Favorite Movie: Little Women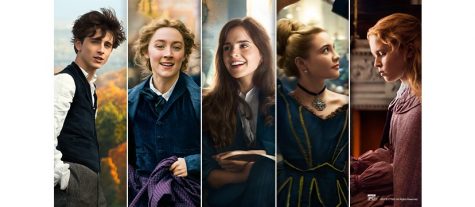 Little Women is a novel that invokes dreamlike memories of sunlit summer afternoons, chamomile tea, shared smiles, and walks in the woods. As sentimental and cheesy as it may sound, this film was a stunningly beautiful amalgamation of culture and historical artistry. It follows the story of the four March sisters, their mother, and their next-door neighbor Laurie as they come of age in a post-Civil War America. If the story itself doesn't sound intriguing enough for you to watch it, the costume design and cinematography alone were movie marvels that make me want to watch Little Women again and again.
———————————-
Favorite Drink: Eggnog Latte
Another one of my beloved holiday drinks, the Eggnog Latte is a semisweet symphony of seasonal flavor. When I find myself getting tired of Earl Grey and hazelnut lattes, I love to try new, strange sounding drinks–this was one of those discoveries! Truthfully, it doesn't sound that delicious, but trust me…it most definitely is. Although it is a little rich for an everyday drink, it's a delicious treat for when you need a festive pick-me-up during the gray winter months. 
———————————-
Favorite TV Show: SKAM France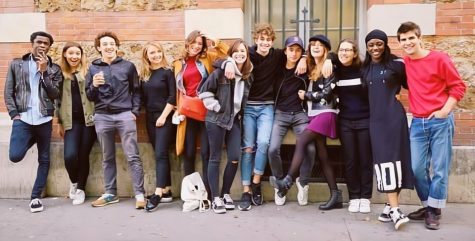 SKAM is an international show that has been remade all over the world in places including France, Italy, Norway, and the United States. I decided to watch SKAM France over winter break because I needed to watch a Francophone show for my French class, and I had already watched SKAM Norway a few years ago. Watching this show was an interesting challenge (seeing as it was all in French), but I quickly fell in love with the characters and the challenges that they were facing in high school. Though French school culture radically differs from that of America, the show presents relatable issues that any viewer can relate to in some capacity. The show is formatted like a webseries, which keeps it a fun, modern program to binge.
———————————-
Favorite Book: Becoming by Michelle Obama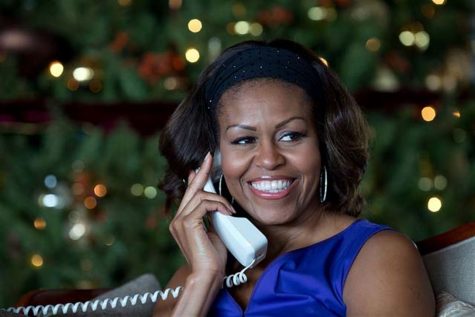 Whether you believe in her political ideologies or not, Michelle Obama is one of the kindest, strongest women in the world today. During her husband's presidency, she was the champion of many causes, such as healthy eating, education, and feminism. Her 2018 memoir Becoming was a beautifully written illustration of who she was before, during, and after being the First Lady of the United States. Obama defines herself as much more than just the president's wife–she's also a mother, a lawyer, and an advocate for good in the world. This book is a fantastic read for those who are frustrated with the current state of the world today and need a little bit of positivity in their lives, since Mrs. Obama looks at everything through rose-colored glasses.
———————————-
Favorite Album: Fine Line by Harry Styles
Anyone who knows me knows that I'm a sucker for indie rock, so when Styles released Fine Line, I had it on repeat for at least two weeks. The entire album feels like a fruit-flavored fever dream, full of druggy riffs and vibrant choruses. Although each song is radically different, ranging from "Falling" (a balladic search for identity) to "Cherry" (a folksy tune that samples a Parisian phone call), Styles glides from song to song with ease and casual power, making the progression of tracks on the album seem natural. This album is a perfect combination of dance-able hits and contemplative melodies, making it a hit for those with even the most eclectic taste in music. As December slid into the New Year, Fine Line felt like a glowing taste of summer in the dead of winter.
---
Easton's Picks: 
Favorite Song:  "Stalemate" by Stone Sour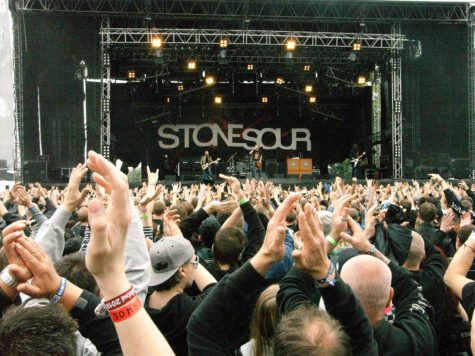 Since December seems to be a lull when it comes to new music releases for many genres, I fell back on my tried and true anthems for a soundtrack to the beginning of my winter. "Stalemate," released in 2013 by Stone Sour, is a power-ballad interspersed with piano, internal reflection, and ultra-heavy breakdowns. Verses set the tone with low palm mutes chugging like a steam engine that arrives at a climactic chorus, which triumphantly elevates the song's mournful interlude. Vocalist Corey Taylor hits tear-jerking notes while his bandmates pull the listener from sorrow to catharsis, and the bombastic outro ensures that "Stalemate" is a home run. 
———————————-
Favorite Album: Earthandsky by Of Mice & Men

Albums were also scarce in December, and one of 2019's strongest albums, Earthandsky, kept me company. Reinforcing that 2019 was a banner year for veteran metal artists, Of Mice & Men dropped four singles before the album's release, with each of them becoming mainstays on my 2019 playlists. Songs like "Taste of Regret" combine anthemic clean choruses with speedy guitar passages synonymous with the band's name, while "Mushroom Cloud" offers a complete and total foray into brutality‒much like the impact of an actual mushroom cloud. One of 2019's best albums this side of the rock industry, Earthandsky has an overwhelming abundance of songs that could be smash-hit singles. All killer, no filler.
———————————-
Favorite Sports Moment: Sending the Raiders to Vegas with an L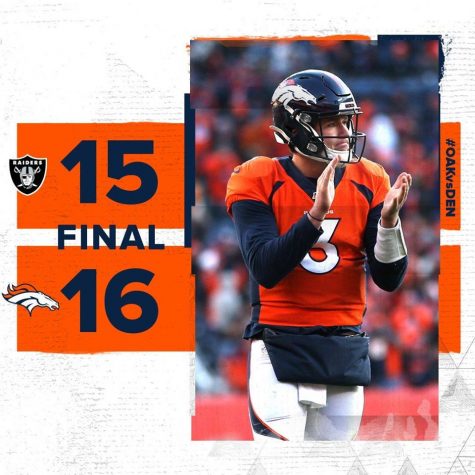 If you're a fan of the Oakland Las Vegas Raiders, it may be best to stop reading here. Although the Broncos' season amounted to basically nothing except the emergence of Drew Lock, it ended with a satisfying spoiler win against their old pals. Going into week 17, the Raiders had a chance thinner than the Broncos' offensive line to make the playoffs, but luckily Denver fans were in for a treat. Drew Lock showed out yet again, while the defense held a desperate Raiders team to just 15 points. In the eternal struggle that was Denver versus Oakland, the Broncos got to write the hallowed last chapter. 
———————————-
Favorite TV Show: The Marvelous Mrs. Maisel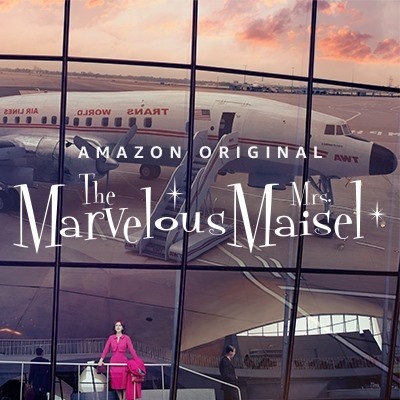 Have you ever connected so much with the main character in a TV series that their emotions are yours? In short, Miriam "Midge" Maisel has caused me quite a few laughs and painful shocks. When I watch The Marvelous Mrs. Maisel, I feel as though Midge is my best friend, and I'm witnessing her dramatic (and hilarious) rise to fame. Season 3 dropped towards the end of 2019, and as I finished binging the series in December, I was ashamed that I had not considered watching the show in the years before. The style and subject matter were definitely out of my wheelhouse at the beginning, but soon enough everything felt natural to me, like the air I breathe. The writers seem to never run out of jokes or intriguing subplots, while lead actresses Rachel Brosnahan (Midge) and Alex Borstein (Susie Myerson) literally cannot stop giving outstanding performances.
———————————-
Favorite Book: IT (Part 1) by Stephen King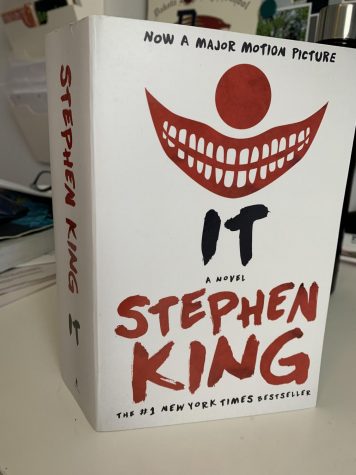 I must confess: I have not yet read all of this wonderful piece of horror. However, I've read enough to know that IT is written in one of the most unique ways I've ever seen. Using third-person omniscient narration, King is able to make the timeline of his story follow its own current, jumping back and forth across decades. Larger than life characters like Pennywise the Dancing Clown are simply dumbfounding in their symbolism and power, while characters like the everyday heroes of the "Losers' Club" are just as big as life, encompassing everything that we love and fear about ourselves. IT is not an easy read, but it is more than worthwhile.
———————————-
Favorite Surprise: No Snow on Christmas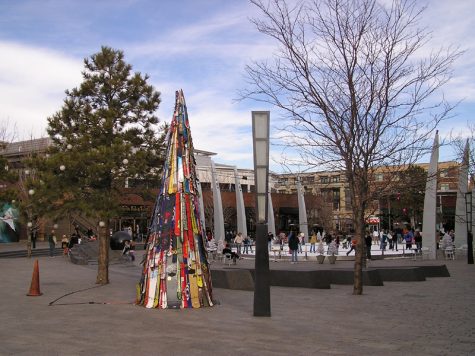 As a kid, not having snow on Christmas isn't quite as shocking as the adults in my life think, because I can remember at least three times when the white Christmas we all dreamt of remained in our dreams. On the plus side, my cousins and I could actually go outside and play pickup basketball instead of sitting inside on our phones. But, I don't know if sunny and warm Decembers are a good thing given that some of the signs of climate change have begun rearing their heads. For now, I'm happy that I got to spend a little of Christmas outdoors without looking like a bloated slug, because snow is a bit overrated.