17 and Counting: Tackling Colorado's Case of Young Voter Apathy
The 2020 presidential election is certain to be a contested battle between Democrats and Republicans; in the Republican corner, it is a forgone conclusion that President Donald Trump will be their candidate as he seeks reelection; for the Democrats, the choice isn't so easy. To determine a party's presidential candidate, a series of primaries are held leading up to the election, culminating in the selection of one final representative. Those in Colorado turning 18 before the election but after the primaries will not be able to cast their votes in the final primaries, essentially voting for a candidate which they had no part in selecting. Would altering this rule be beneficial to Colorado's democracy?
The Basics: How does the youth vote across the United States?
Across the United States, 16 states allow registered 17-year-olds to vote in all primary elections if they turn 18 before election day, according to FairVote.org. However, this practice varies wildly throughout the nation, with some states barring 17-year-olds meeting the prerequisites from participating in any primaries other than presidential ones, only allowing them to vote in one party's primary, or restricting their participation in primary voting altogether. 
Colorado falls in the last category of course, with 18 being the age barrier for all official political action. Teens can register to vote as early as 16, but any party affiliation will not matter as long as they remain under 18. 
A joint study to understand the 2016 election's national youth voting numbers by Brookings Governance Studies and Tufts University's Center for Information and Research on Civic Learning and Engagement (CIRCLE) revealed that approximately 24 million young voters (18-29 years old) cast their ballots in that election, or around half of the eligible 18-29 year old population. 
This turnout among young voters is yet another example of a consistent uptick in the national youth turnout in presidential elections after 2000, per a graphic provided by CIRCLE's study mentioned above. From 2004 to 2016, the youth turnout has been no lower than 48% of the population and no more than 52%, starkly contrasting the 41% turnout in 2000. 
In Colorado, turnout numbers have been much higher than the national average during the last few presidential elections. The Denver Post asserts that 61% of the youth population aged 18-24 voted in the 2016 presidential election– that number dwarfs the national turnout mentioned above for a bigger demographic. 
The Initiative: Would Colorado's youth engage in the primaries? 
With young Coloradan voters being more involved in their nation's presidential races than most of the country, it only seems natural that 17 year olds eligible to vote in a presidential election should be able to vote in their party's primary. As the numbers indicate, not many would take the opportunity for granted. 
"In terms of being able to vote in the next election, I would definitely vote in the primaries," said Annie Whipple, a junior at Dakota Ridge who will be 17 during the primaries but eligible to vote in the election. "I'm just as capable of being an informed voter as a 17 year old as I will be a year from now." 
The accessibility of voting has been of importance to the United States for decades now, one of the most important extensions of franchise to the youth being in 1971 when the voting age was lowered from 21 to 18 federally. However, up until the 21st century, engagement was very low: turnout even fell after 1971. Young voters have traditionally been the most apathetic bloc of the franchised, and blame realistically cannot be attributed to any single cause. 
Efforts to increase engagement among young voters are widespread in the present, and some truly gargantuan efforts were made in the past. In the 90's, Rock the Vote became a formidable political force, focused on giving and encouraging young people to have a greater impact on American politics. Their partnerships with popular artists at the time such as Madonna and Megadeth drew young people in and helped the non-profit lobby for the National Voter Registration Act of 1993, which required governments to offer voter registration opportunities to anyone that renewed their driver's license or public assistance after it was signed into action by Bill Clinton. 
While there aren't many political movements as flashy or "cool" as Rock the Vote was in the 90's today, organizations like New Era Colorado put their hearts into increasing the young voter turnout within the state. "We're where young people are" reads a heading on their official site, meaning that the organization works to increase voter turnout by going to college campuses and other centers of youth interest.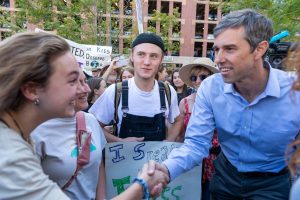 In addition to the wealth of organizations across the country making efforts to drive up youth political engagement, the USA has witnessed some truly massive movements kickstarted entirely by the youth. Following the horrific mass shooting at Marjory Stoneman Douglas High School in 2017, survivors organized March For Our Lives, a movement and organization which inspired hundreds of protests across the country and amassed a following of millions. Outside the United States, Swedish teenager Greta Thunberg started a global movement, dubbed the Global Climate Strike, to spark action regarding climate change, similarly causing hundreds of protests with millions of followers around the globe. Students at Dakota such as Whipple attended the Global Climate Strike held in Denver in 2019, making their voices heard among waves and waves of the like-minded. 
Organizations like New Era Colorado have proven themselves invaluable to Colorado's democratic processes, and protest movements such as March For Our Lives and the Global Climate Strike have illustrated the sheer power of the state's youth. However, the problem remains that many students still feel like their voice doesn't matter in the end. 
The Obstacles: What stands in the way of youth engagement? 
Some may argue that lowering the primary voting age may be giving the youth a disproportionate voice in the Colorado elections, but consistent statistical trends regarding generational voter turnouts beg to differ. 
Young voters may feel like their votes don't carry weight due to the fact that although youth turnout is high, the older generations of Colorado consistently turnout at a higher rate. Baby Boomers turned out nationally at 70 percent in 2004, 2008, and 2012 according to USA Today, overwhelming the Millennials whose turnout peaked at 50 percent in 2008. To add insult to injury, 100 percent of registered Baby Boomers are able to vote in their party's primary, whereas a significant portion of Generation Z won't be able to have a hand in selecting their party's candidate. 
This phenomenon plagues other high-turnout states like Colorado, and young voting organizations don't seem to be affecting the numbers much. Minnesota, for example, topped the United States voter turnout numbers for the 2016 election, but data collected by the US Census Bureau revealed an 18 percent gap between the youngest and oldest age bracket's turnout. The Minnesota Secretary of State's Office shows Minnesota with a 74.7 percent turnout in 2016 while Colorado is the third of three states to boast a turnout greater than 70 percent. 
Minnesota allows eligible 17 year olds to participate in all presidential caucuses, but in non-presidential election years, they cannot participate in other caucuses. Interestingly, Minnesota had the highest young voter turnout in the nation for the 2018 midterms, continuing their tradition of exceptional turnout. Although Colorado is close to Minnesota in voting statistics, it is fair to say that perhaps the latter has a better voting culture ingrained in their democracy. 
"The people I surround myself with have an influence [on political involvement]," said Whipple, "I'm more encouraged to be active and informed in my democracy because of them." 
Still, even with a great voting culture, Minnesota's youth lags severely behind their elders. To shed light on the darkness of so-called "voter apathy" among the youth, the Bass Connections Project, conducted by Sunshine Hillygus and other students at Duke University, focused on the problem through the lens of the education and election system. The study draws conclusions that civics classes throughout a child's formative years offer little information on engaging in democracy, rather offering trivial knowledge. Coupled with an at times confusing election system, those nearing eligibility may not be able to vote due to the simple fact of not knowing the steps required. 
In some cases, the youth has the will to vote, yet the older generations have much more know-how. Generations such as the Baby Boomers grew up in a time of various wars, which at times demanded the direct political involvement of young people either as soldiers or protesters, while Generation Z and the Millennials have grown up in a world largely free of serious global conflicts. Regardless, young voters have their legs tied together when the starting gun fires at the ballot boxes. 
The Verdict: Would opening the Colorado presidential primaries to 17-year-olds be worth it?
"

    I'm just as capable of being an informed voter as a 17 year old as I will be a year from now. "

— Annie Whipple, Junior
All societal issues are complex, but finding a quick solution to young voter apathy appears about as easy as solving a 40-sided Rubik's Cube. On the one hand, greater electoral freedom is almost guaranteed to drive up the turnout in future Colorado elections, but on the other, only so much change can be made at once. 
If the mass protests of 2018 and 2019 are of any indication, it is that young people can make their voices blare louder than sirens if they truly wish. The numbers are there for the young generations to take the reins of the American electoral process, but as of now, it all comes down to how willing they are to register before election day, do diligent research, and fill out their ballots on the big day. 
While it can certainly be considered that the system young people are growing up in continues to serve them meager rations, attributing the lower turnout of youth voters to any one cause simply isn't reasonable. As with all widespread problems, baby steps must be taken in order to find permanent solutions, and the first step must be left up to all those who will be able to place their votes in a real election. 
Aside from the mind-numbing complexity of systems and solutions, one critical step is simple for Colorado: Let 17-year-olds who are going to be eligible to vote influence who they will actually be selecting. In all seriousness, what is the worst that could happen? To drive voting numbers up for future generations, we must afford more opportunities to our own. 
About the Writer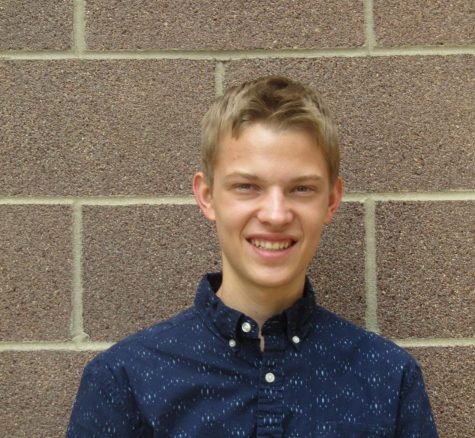 Easton Lane, Editor
Easton Lane is an editor who has been with The Cord for a year and counting. He enjoys self-deprecation as well as writing, heavy metal, Nuggets basketball,...