The Goldfinch–Less Golden Than One May Think
Hang on for a minute...we're trying to find some more stories you might like.
The Goldfinch film adaptation makes a pantomime of its namesake novel with a toneless plot and flat characters. Named after Donna Tartt's 2013 novel which in turn was named for the famous Fabritius painting, The Goldfinch movie is a Frankenstein version of its more illustrious selves.
Published in 2013, The Goldfinch novel begins with a bombing at the Metropolitan Museum in New York, creating a black hole of events for 13-year-old Theo Decker (played by Ansel Elgort who represents Decker as a young adult and Oakes Fegley, Decker's younger adaptation). Saddled with a dead mother and a notebook-sized 15th century painting, Decker falls into his coming-of-age bildungsroman as the story maneuvers him from teenage years to eventual adulthood.
The Goldfinch movie released its first trailer in May of 2019, featuring award-winning actors and actresses such as Nicole Kidman (playing Mrs. Barbour) and Jeffery Wright (playing Hobie), as well as the up-and-coming star from Stranger Things and It, Finn Wolfhard (as a younger Boris). John Crowley, Tony awarded director, worked alongside the Warner Bros to develop the massive novel into a bite-sized two hour adaptation. Despite the fame from its director and actors, the movie lacks the substance to hold a flame to Tartt's original work.
The plot that won Tartt a Pulitzer Prize for Fiction simply doesn't translate well into film. Compared to the novel's heavy description and constant inner monologue, the movie appears emotionless and detached. Where a loose, character-driven story excelled in written form, the adaptation's attempt to tie up Theo Decker's manic thoughts leaves the film oddly disjointed. The film stitches together beautifully cinematographized, but ultimately dry vignettes depicting Decker's journey into adulthood, rushing the audience between past and present with haphazard speed and a shoddy narration. Like the furniture antique scam Decker runs, the film is a mangled piece of its greater predecessor. In its attempt to capture the smoky, drug-induced depression of the novel, the movie barely scratches the surface with a gutted and spliced 150 minute film.
With barely any plot, the movie sinks deeper into infamy with its one-dimensional characters who chug half-heartedly along on already-thin ice. 
From Xandra (Sarah Paulson), Theo's drug-selling, bleach-haired stepmother, to the cold and kind maternal figure of Mrs. Barbour, the characters attempt to strengthen the already floundering story. Instead, the main characters appear like half-baked archetypes of their book forms. Pippa (Ashleigh Cummings and Aimée Laurence) is like any other stereotypical, unrequited love interest. Hobie is simply a means for Theo's lackluster character development. Boris (Aneurin Barnard and Finn Wolfhard) becomes another druggy in the midst of cinematography and Oscar ploys. Translating a 700 plus paged novel into a film, cuts out the nuances of these characters — their quirks and habits that make them intriguing, that develop Theo Decker's world into something tangible. Instead, the adaptation struggles to find a way to articulate the deep, emotional bonds which tie the characters together, leaving the film dull.
Though the movie's attempt at mimicking Tartt's distinct style is lost, The Goldfinch frames the setting beautifully. Directed by John Crowely and filmed by Roger Deakins, the movie sets the characters before dusty Las Vegas views and old, greying paintings. The aire of New York's upper class, the sandy and deserted neighborhood of Theo's father, and Amseterdam's snow-touched village paints The Goldfinch in shades of tender loss and ultimate reconciliation. Despite flimsy characters and a tone-dead plot, the adaptation makes a point of being a piece of art even when it's merely tracing over the finer works of Tartt. 
The Goldfinch adaptation deserves a grade of 5 stars out of 10. It lacks the depth and beauty of Donna Tartt's work, but can still stand, swaying, on one leg. Though the movie is enjoyable and passably entertaining, the shallow plot and characters create just another surface-level attempt at generating Oscar buzz.
About the Contributors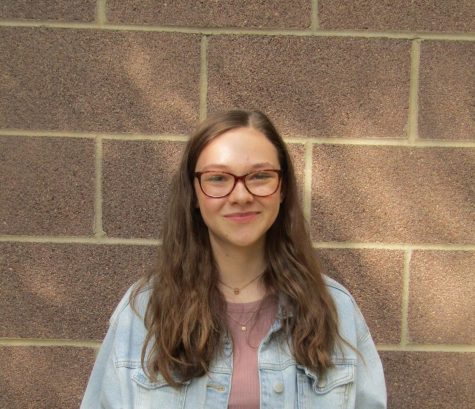 Brynn Lemons, Staff Writer
     Brynn Lemons is a staff writer for the Cord News and current senior at Dakota Ridge High School. She joined journalism in order to broaden her...