ELEVATE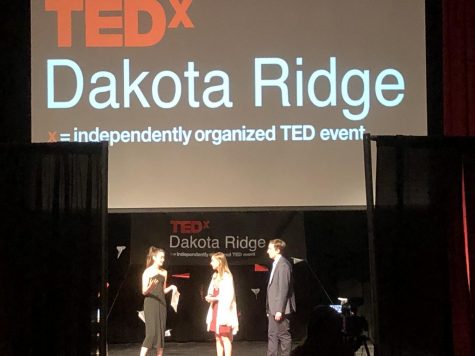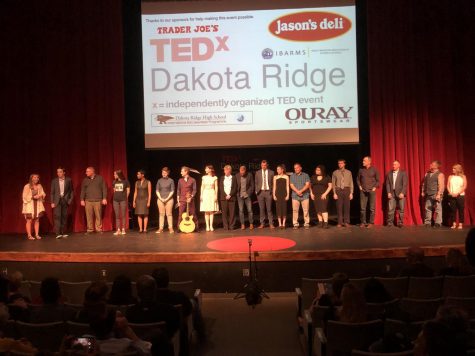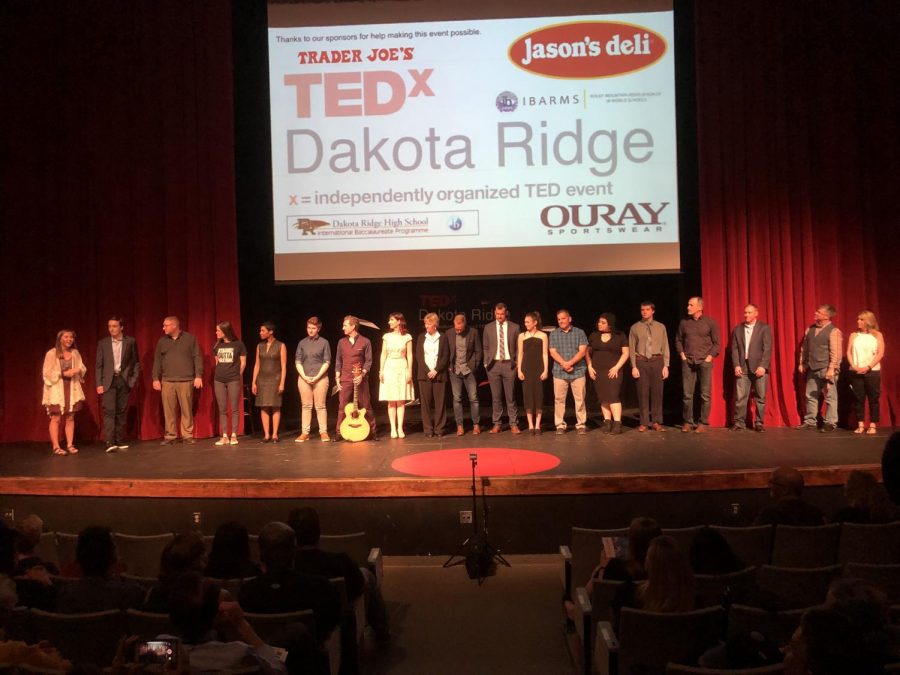 TEDx events have been renowned for their ability to bring together brilliant and unique individuals to share their stories, their beliefs, and their ideas for the future. April 27th allowed Dakota Ridge High School to host this honored event, bringing in members of our own community to speak their minds.
Mark Sherman, a teacher at Dakota Ridge High School, began the path to hosting this esteemed event and his passion for TED Talks drew in IB Diploma students Zoe Plechaty (12) and Filip Casey (12). Along with fellow organizer Holly Davis, the IB coordinator at Dakota Ridge High School, these four individuals created TEDxDakotaRidge.
After running auditions back in February, the organizers selected 16 candidates out of the more than 30 individuals who either auditioned in person for the panel or submitted video auditions.
Three Dakota Ridge students were selected as speakers, Jasmine Davis (12), Keith Phillips (9), and Lily Cole (9).
Davis, an award-winning slam poet and outspoken member of the community, played to her strengths during the TEDx talks, reciting a slam poem about identity. Phillips, a lacrosse player who copes with ADHD, gave a speech on how teachers can better connect with their students. Cole, as a Korean Ashkenazi Jew, talked about her experiences growing up in different parts of Colorado.
"I want people to know that the place they are in right now is temporary. I got to talk to some incredible people and adults who treated me as their equal. We didn't have small talk, but rather we had conversations on a much deeper level. It helped me see that all the b.s. in high school and the cloud of unhappiness that looms above all of us is really very temporary. I also hope that people watch TED Talks or go to TED events because every speaker has an important message to share that we can all learn from. It was an amazing experience," Cole says.
The flock's ranks were strengthened by Dakota Ridge staff members Aerin Bender, Levi Bartholomew, and Chris Eberhardt.
Bartholomew, a social studies teacher at Dakota Ridge, spoke about the use of standardized test scores as determinants of success. "I think so much of what we do in the classroom and the process of learning is being lost because you can't place a score on it, and without doing that, the tests are meaningless. Because if you don't do the process, then the outcome does not match that," Bartholomew says.
Although the talks were centered around different topics, a common thread of the need for kindness and the power of individuals was present throughout.
As Bartholomew says, "I think the event went really well for the first time doing this. I think there was a lot of excitement. I liked that there were a lot of things that were part of the same themes. Which is just by happenstance. So there was a lot of talk about how to be a more successful person in life."