Heartbreaker
Hang on for a minute...we're trying to find some more stories you might like.
This past December on the day after Christmas, I got a new tattoo. A bold-looking black rose perched on my left bicep. At first glance, it looks like any other crummy tattoo from an under eighteen parlor. It's one color, a little sloppy and only fifty bucks; but there is a deeper meaning to it.
The emblem comes from the front cover of "Cold Roses," Ryan Adams's first album with backing band The Cardinals. A record I adore.
I have a fond memory of listening to it in Tennessee last spring, driving through the forests outside Nashville. This little road trip with my parents was comprised of small talk about baseball and El Chapo, along with the music of Adams. The gritty guitar takes me right back to our rental car, a Kia Soul. Except, instead of the hamsters, there was a greasy longhair in the backseat.
A little over a year earlier when pop radio was dominated by artists such as The Chainsmokers, Bruno Mars, and Rae Sremmurd, I found him. Washed up on shore with "accidental dreadlocks," double denim, and a soul burning like fire. Ryan Adams was my favorite artist from the second I heard him.
I hadn't yet dug so deep into a catalog of music as I did his. Every song, every album, every band of his captivated me. Perfect music, I thought.
Previously, I was into 90s alternative and 80s punk rock. I enjoyed groups like Alice in Chains, The Clash, and Black Flag. Ryan was quite a diversion from these bands, but I knew he was just as honest and pure.
Adams was a culture shock for me. As someone who had never truly been exposed to country, Ryan acted as a gateway to a bunch of great music for me. His work with Emmylou Harris led me to people like Gram Parsons, Townes Van Zandt, and John Prine. Each of which are still heavy in my rotation.
Seeing Ryan and his band at Red Rocks the past couple years was incredible. The first year, he sang his tune "Dirty Rain" while a rainstorm passed by Red Rocks heading for Green Mountain. He and his band played ultra-rad extended versions of his songs with Dead-esque energy.
Ryan's music was a safe place for me. No one knew who he was, so it was all mine. This made it hard for me to have a conversation about music that didn't lead to the same "Ryan not Bryan" befuddlement.
No matter what I was listening to at any particular time, his music was always there acting as a path back home.
The first time I drove a car alone, I was blaring Ryan Adams's "Gimme Something Good" through my neighborhood. The soundtrack to my small taste of freedom.
This year was shaping up to be huge for Adams as he announced he would be releasing three new albums in 2019. Finally, some new music after a relatively long absence.
All of this excitement came to a screeching halt when The New York Times reported that Adams abused his power in the music business to pursue women sexually. In some cases, being aggressive when rebuffed.
Among accusers, This Is Us star Mandy Moore who married Adams in 2009 and singer-songwriter Phoebe Bridgers. Both women recalled Ryan exemplifying controlling behavior that was damaging to their music careers.
It has been troubling to hear about the allegations of abuse against Adams that have more clearly surfaced over the last few weeks. Under this new lens, his work is tainted. It's hard for me to listen to these songs the same way knowing about the people that he hurt.
Now, what do I do with the concert posters of his hanging on my walls? Or all the vinyl? Or even my tattoo? I don't quite know yet. As details continue to emerge, it's unclear what's going to happen to Ryan, but it seems like music is on hold for the time being. His three album year postponed at a whim.
In the age of Me Too, Time's Up, and Fake News, heroes are falling around us everywhere. Who do we believe in? Who do we trust? Who do we admire and strive to be?
The whole "art and artist" debate is one Adams's fans will have to ponder on their own. I'm beyond grateful this music exists, but causing pain to others in such a way is unambiguously wrong. I hope Ryan can get help and beat his demons because deep down, under all of his problems is someone more than capable of good.
About the Writer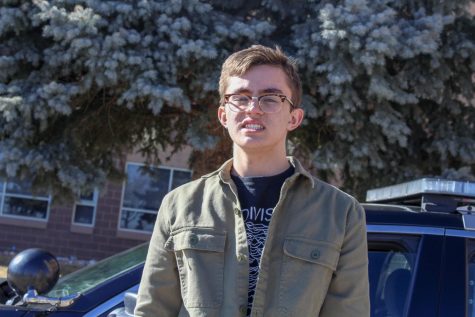 Jackson Manely, Editor
Jackson Manely is a senior editor for The Cord News. He plans to go into audio production, and aspires to write and produce his own music. Jackson further...