Staff Goes (Do)nuts for Far Away Friends
M. Moen, Staff Writer
April 19, 2023
The DRHS Far Away Friends club held their 3rd fundraising challenge of the school year on April 17 — the donut challenge. Raising close to 92 dollars, the challenge was a success in the mind of teacher sponsor, and active challenge participant, David Purcell.
"I thought it went very well — best turnout we've had yet for a Far Away Friends challenge. I think the staff that participated had a lot of fun, and the students seemed to enjoy the show and getting together," Purcell said.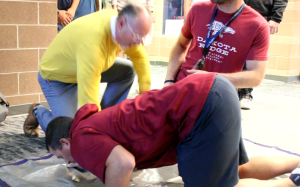 Teachers David Purcell, Mallory Goetz, Nick Cummings, Matt Zeman, and Jeremiah Behrendsen, competed to win a Target gift card by eating donuts hanging from the rails in the main hall of the school, without using their hands. A tarp was set on the ground, strings were hung, donuts tied, and participants ready to go. By the end of the contest, three of the teachers were eating the donuts off the tarp on the ground. Nick Cummings seemed to be the winner, but after closer inspection, he was found to have forgotten a small piece still on the tarp.
"Im convinced that I won, and that was somebody else's piece that was planted there," Cummings said.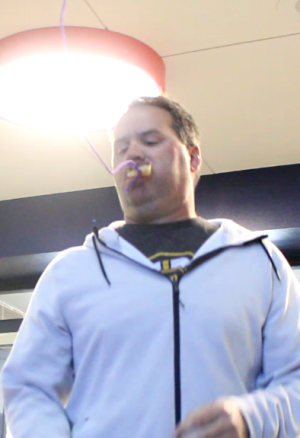 The winning gift card went to Purcell; however, he decided to auction off the prize to the highest bidder in the student. Main hall was filled with Seminar students who watched the teachers race to eat. 
Far Away Friends does more than just fundraising. The club hosts a pen pal program, does lessons about how to be a global citizen, and, of course, holds challenges to fundraise for the DRHS sister school, Agidak, located in Uganda. The club is a branch off of the organization Far Away Friends, centered to help students in rural Ugandan schools gain quality education. Their motto is "Education is for everyone." The organization works with the local community around the schools and focuses on getting them what they need to give students a pathway to achieve their dreams and end cycles of generational poverty. They also buy from the community to strengthen their local economy and give a good foundation to the school, its students, and the faculty.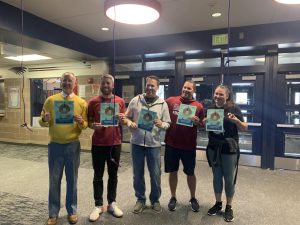 Last on the docket for the FAF club is the dunk tank challenge which will be held after school on May 10. Snacks will be sold, and students will have a chance to knock teachers into a dunk tank by throwing balls at a target hooked up to the chair teachers sit on in the tank. Last year's dunk tank participant was librarian Mallory Goetz.
"It was fun. There were some students with some really good arms. I got dunked a lot, but it was fun.