Junior Elliott Fluss Challenges the Norms
M. Moen, Staff Writer
November 9, 2022
While Elliot "Tittles" Fluss seems to walk with confidence in his unique outfits, deep down he is just like the rest of us.
"I encourage you to try to find someone who doesn't find my outfits, at the very least, unique," Fluss said.
Fluss first got his style after years of hiding his creativity through a comedic sweatshirt, but found he wasn't happy with what he was wearing, so he decided to make a wardrobe change. While what he wears may not be considered the norm for men by today's standards, at one point it was. Many notable men wore dresses — from King Henry VIII in the 16th century to the modern kilt today — skirts, dresses, and items of clothing of that sort are nothing new to men's fashion. 
"I went through a phase where I wore nothing but a sweatshirt with a picture of a doughnut with a bite taken out of it, and there was another doughnut…and I wore nothing but that for, like, years," Fluss said. "I realized that that was boring, and I also went through a phase where I was trying to pass as masculine. I thought that was really boring, so I said, 'what if I just stopped being a prep and I just put on some clothes.'"
Fluss is a transgender teenager using the pronouns he/him/his. Being accepted is a struggle, but Fluss endures it. Fluss gets misgendered at school on a constant basis, and while that may not seem like much, to a transgender person that means everything. Misgendering is when someone uses the wrong pronouns for another person, this can be intentional or unintentional, but hurts just the same. 
"At home, they're pretty much respected, but at school, not so much. Not because of bigotry on anyone's part, but just because I wear skirts every day. Usually, people just assume that I'm she/her which I've grown to deal with," Fluss said.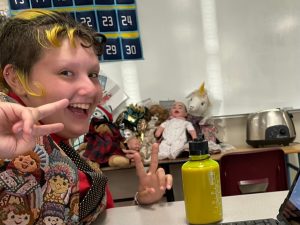 Fluss is passionate about many things, ranging from math to Interview With a Vampire. He is involved in the Dakota Ridge Math Club, GSA, the Chess and Go Club, and a D&D group.  He also "loves" pumpkin spice, enjoys sewing, and much more. In talking with Fluss, he was most  adamant about getting people to join the math club. 
"There are only a few people in Math Club, so you guys should join so that there's more people in Math Club. Then, if a lot of people join, we can go to math competitions where we can out-math other people, and I really want to do that,"  Fluss said. 
Fluss has mid-length, split-dyed hair, half neon-yellow, and half brown. (He has since gone through a hair change, shaving his head all except for his bangs and sideburns and coloring his hair half blue and half green.) 
Fluss got the name "Tittles" while talking with his friend Kody Heitz about Fluss's "clown-sona." 
"I designed a PFP as a clown for his birthday. He's become a clownsona, so I designed it, and he went from there," Heitz said.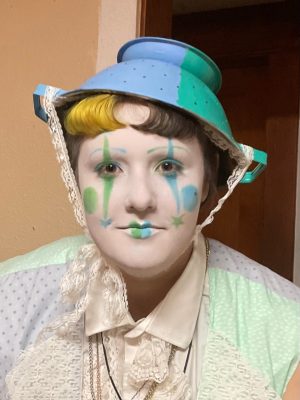 Fluss's confidence doesn't go unnoticed when around people, especially his friends, Stella Graupmann claims. 
"I would describe Elliot as very sure of himself and very cheerful," Graupmann said. "Quite contrary in a fun way." 
Friend Kody Heitz adds more about Fluss's overall demeanor. 
"You definitely know when he's in a room with you," Heitz said. 
Elliot Fluss is an outgoing teenager with a unique style and personality. He doesn't follow the modern-day male fashion trends and instead chooses to be himself. When he walks in a room, you know it, and his attitude fills the space.