CDHE Reports Post High School Opportunities Affected By Covid, But Dakota Fights Back
A recent Colorado Department of Higher Eduction (CDHE) press release states that college attendance rates are still suffering from Covid, yet there are minute increases in student populations who are attending advanced courses during their high school years.
It's May in 2022, seniors have just graduated, and many know what their plans are for the future. Whether it's a trade school, a collegiate opportunity, or going straight to work, most everyone has a plan. But not you, you have no idea. You don't know what you want to study, you don't even know if you want to study. Is this dilemma your fault?
As the world slowly emerges into a post-covid educational system, many experts are starting to see the effects that the pandemic had on educational institutions and those who attend them, or don't. 
The CDHE press release focused on how high school educational opportunities were enabling, or harming, students' ability to graduate and successfully attend a college or university. After college rates plummeted during the pandemic, some expected that as the virus waned, rates would return. However, according to the study, as of 2019 there is still a five percent decrease in collegiate attendance. 
This factoid applies to the general high school population, and it certainly does not appease many educational districts, like Jeffco, as one of their primary goals is to attain high college success rates from their alumni. 
The study went on to dive deeper into the issue in regards to where the opportunities for success do appear. It was found that students who earned college credentials through AP classes or other concurrent enrollment programs actually increased their college attendance rates to 52% total. 
The fact that this growth still occurs with online schooling, changing classrooms, and even altering academic courses, is astounding.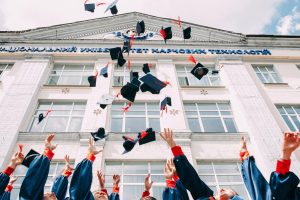 Emily Schneider, a graduating senior at Dakota Ridge High School, reaped the benefits of attending these collegiate level courses in high school. 
"I took AP U.S. History, and I think Intro to Business was a college credit course," Schneider said. " I think Dakota did good in making sure you had enough credits to graduate, and it had a lot of college seminars during my senior year to help prepare me." 
As many students like Schneider are attending college and pursuing their academic careers, there is still a disproportionate gap between different ethnic groups and income levels in college attendance. 
The CDHE also found that the gap between attendance rates between white students and those of minority students increased as a result of Covid. Lower income levels also followed this trend as fewer and fewer chose, or were able, to attend college.  
This gap is prevalent in all areas of Colorado, including Littleton. Dakota Ridge High School is maximizing efforts to provide opportunities for every single student.
"As a school, it should be our goal to prepare all students for life beyond high school. That is why we have multiple pathways at Dakota Ridge for every kind of student learner. We have the rigorous courses for college bound students along with the Career Explore and Warren Tech classes that provide a vocational pathway of success," Assistant Principal Kim Keller said. "Any course that we offer is never dependent upon income level. We always have money available to pay for tests or fees if a student/family cannot afford something. We want every single student at Dakota Ridge to successfully reach their full potential."