Where To Go On Vacation
The weather is getting warm, school is soon to end, and summer is around the corner. Everyone is ready for a vacation, but the question is where?
There are a lot of factors that play into choosing a vacation location, and it's difficult to choose only one of the wonderful places on our planet to spend the few days of freedom summer offers. Luckily, I have brought to you a short and comprehensive list of locations that just might fit your needs and answer your question about which will be your next vacation spot.
3. Florida
You can't go wrong with Florida. With its warm weather and humid climate, the state encompasses everything one would need in a relaxing vacation right here in our states. Being the United States eastern peninsula, it has many places to offer when it comes to beach spots, filled with them on both sides and far south — visit them all if you so please! Both sides have many of their own benefits to offer, with the placid gulf side good for calm visitors, and the big waves and busy beaches on the Atlantic coast a great place for more adventurous vacationers. As someone who's been to both, multiple times, and once within the same summer, the gulf side will always be my favorite due to its warmer waters and consistency. It's like a warm hug from the bottom half of the states.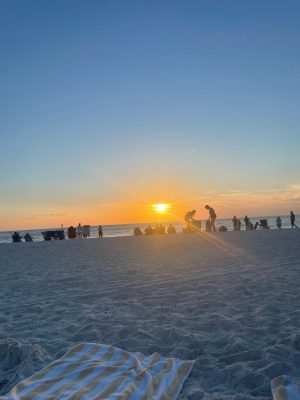 Ultimately, if you can't choose, sit yourself down in Orlando, Florida and you can drive to either side based on how you're feeling. The only downside being that Orlando sucks and the drive to either side is at least an hour if not more, I know because that's what I did last summer, but whatever floats your boat. 
Staying within the country is a good way to enjoy your summer without having to travel super far to achieve the same goal of soaking up the sun and sitting on the beach. Florida isn't your only option either, a multitude of states have beaches and fun vacation spots that you can go to this summer. But personally, Florida will forever be my favorite for its practicality and warm weather.
2. Staycation!
Staying home for the summer does sound extremely lame as most of us are aware, but many seem to overlook the beautiful things their home state has to offer in terms of vacation spots. Colorado, especially, has a variety of locations to visit being one of the most stunning states in the country; we're lucky enough to not be Kansas, so take advantage of it whether it's a road trip to nowhere for some sightseeing, or climbing a fourteener, or dipping into our assortment of hot springs. Not only do we offer adventures in the natural world, but our urban sights are breathtaking as well with a colorful downtown Denver area offering a plethora of unique shops and people to see and meet.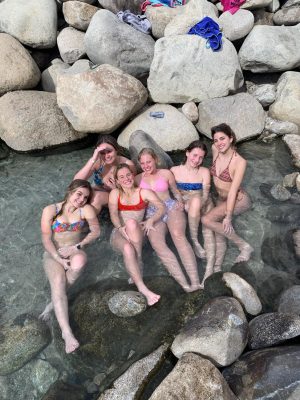 One of my favorite places to go is the Mt. Princeton hot springs in Colorado. The springs are one of the only kind that do not have a terrible sulfur smell that typically comes with hot springs. The warm waters are enjoyable in multiple ways with a couple of pools and even a swimming area in the nearby river where they pipeline the spring water to warm up the water. The place is cozy and tucked away, with only a few visitors on weekends, making it a great small vacation place for a few days during the summer, and it's only a couple of hours drive time from Littleton, so you can enjoy warm water swimming without the hassle of flying.
Filling your summer with small day trip vacations can make it that much more enjoyable and your free time will seem a little less endless. 
1. Costa Rica
By far the best vacation spot to visit is Costa Rica. Although quite the trip, roughly a 6 hour flight from Colorado, which can make quite the hefty (expensive) plane ticket, the experience that comes with the location is worth it. The culture, climate, people, food, and environment all make up for the price. My experience in Costa Rica was undoubtedly my favorite of all-time with up-close looks into the locals' way of living, including once even sitting down and being served in a local's very own dining room. Never have I met more kind and welcoming people. David, our tour guide, was one of the kindest people I have ever met, a man so willing and eager to share the country that he loved with visitors. David showed us first-hand some of the daily practices of their country, including their seemingly impractical methods of construction, with their use of basically only ox and manpower in the making of concrete. The Costa Rican value in its environment triumphs the efficiency of machinery and technology, so they opt to use more dated forms of gathering materials to help preserve their natural land. Instead of destroying their river with large equipment for the rich clay and sand at the bottom, they slowly collect what they need and keep the environment intact. This is just one example of many practices the Costa Rican people uphold to honor their morals and values. Not to mention the conservation program the government has in place, reserving 10% of the country as national forests and protected land.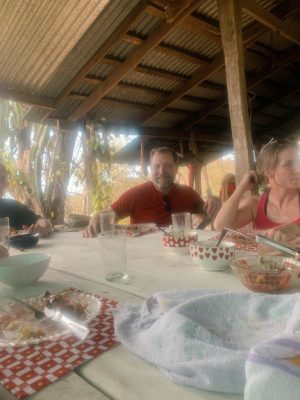 The country is far from perfect, but the efforts put into doing what is right is clear, and it's a place I am willing to support. There is no better feeling than enjoying the beach and our beautiful planet earth in a place that is putting in the work to preserve its natural beauty. During this day and age, it's important that we all play our parts in protecting our planet, and that includes where we choose to put our money. I think the world could go without one more mega hotel in Mexico, so let's consider an option that is more environmentally friendly.
As you sit down to book your flights for vacations this summer, consider these options, or at least the criteria that makes these options so wonderful, so you can enjoy your relaxation time without missteps or any underlying guilt. I'll see you all there!