Dr. Jelinek Will Hand Over the Keys to Mrs. Keller
The time that Dakota Ridge High School was dreading has finally come, Dr. Jim Jelinek's retirement. After working with the school for 16 years, it will be hard for many to say goodbye. 
Senior Grace Hanvey has been attending Dakota Ridge for the entirety of her high school career. "I got very lucky that Dr. J. was my principal the entire time I was here. It's weird to think that the school will go on without him, but I know that the school is strong enough to not fall behind even after losing its wonderful principal," Hanvey said.
Parents will miss Dr. J., too.  Mark Burford, a father who has had four kids graduate from Dakota Ridge, and two still attending, has his own struggle with the retirement of the principal.
"I went to the same college and actually attended the same fraternity as Dr. Jelinek, and he was a big reason why I decided to send my kids to Dakota. He is a great man with the kind of work ethic and responsibility that I would want in the principal of my children's school," Mr. Burford said. "Although it's sad to see him leave and not be the principal for my last kid finishing high school, after just retiring this year myself, I have to say I am happy for him. I hope he enjoys his retirement like I am!" 
The process to find the new DRHS principal was extensive, with no detail left behind when trying to decide who would take over leadership of the school. There were multiple meetings among the administration, and a hiring committee was formed. The committee was made up of Dakota Ridge students, teachers, and community members who were all involved in the decision, giving everyone the representation they deserve on such an important position. 
Possible candidates toured the school and had extensive conversation with staff to determine if they fit the criteria. Even Dr. Jelinek was involved in the process, with concern for whose hands the school would be left in once he was gone.  
After a month long process of interviewing, it was announced on February 17th that Mrs. Keller, current assistant principal at Dakota Ridge, will be taking the job as the new principal  this upcoming fall. 
This decision was thoroughly reviewed and advised by many to have the best candidate chosen for the job, and Keller fit that position.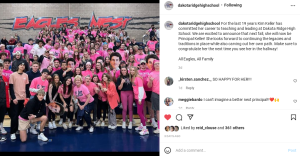 With prior experience in the world of education, and after working at Dakota for 16 years, Mrs. Keller's devotion to the school has been felt for over a decade. For many, it only makes sense that she takes the role. 
"I couldn't be more pleased for Dakota Ridge High School," Dr. Jelinek said, "happy to know that the legacy will continue on for years to come."
"I am so excited to lead the school," Kim Keller said.  After teaching elementary, middle, and high school, followed by high school administration, Keller says, "It's like my next step in education."
Keller understands the love the school has for Dr. Jelinek and the legacy he is leaving behind. "I have big shoes to fill," Keller said, "but I have to carve out my own identity in the school." 
"We'll see…" Mrs. Keller said, laughing off the pressure of the new position, ready to take it on. 
Congratulations to Dr. Jelinek on his retirement and to Mrs. Keller for her new position. Their hard work clearly earned both of them this new chapter in their lives. May the community as a whole wish them luck on their new journeys.