The Rams and Bengals Will Face-Off in L.A. For Super Bowl LVI
The playoffs concluded for the National Football League. Winner of the AFC championship is the Los Angeles Rams, and the winner of the NFC championship is the Cincinnati Bengals. People are already predicting who will win the February 13 Super Bowl game, and the stakes are high. 
The Bengals have a higher chance of winning a championship right now according to SportingNews.com, with the Rams at -200 odds, compared to the Bengals with a +168.
Nevertheless, this is a very competitive and highly anticipated game; both teams are going to create a toss-up that has never been seen before. Each quarterback has proven worthy of going to a Super Bowl.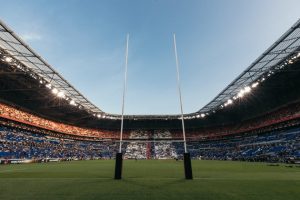 Statistically, Matthew Stafford, the quarterback of the Rams, has a 72% pass completion, with reliable wide receivers being Odell Beckam, Jr. and  Cooper Kupp. Joe Burrow, Bengals quarterback, has a 70.4% pass completion rate, but his main passing target, C. J. Uzomah, is hurt. The Bengals have a stronger running game with their RB Joe Mixion. 
 The Bengals created a  very strong defense, limiting running back Derrick Henry down to only 62 yards rushing and locking down Patrick Mahomes. This will be a challenge for Stafford and the Rams offense. 
"I think the Rams will win, due to the pass-rush defense and the pressure that will be put on Joe Burrow,"  junior Matt Keagy said. 
The last time Burrow and Stafford played was in 2019, with a score of 10-24. Burrow has a chance to prove himself this year. Both teams signed new star players. The Rams defense signed weapons like Von Miller and Aaron Donald, so the Bengals offensive line is going to be tested. 
"I think the Rams will win, but I really want the Bengals to win because of Joe Burrow," sophomore Ian van Duursen said.
The Super Bowl kicks off at 4:30 p.m. on February 13th at SoFi Stadium in Los Angeles. Several artists, such as Eminem, Snoop Dog, Dr. Dre, Kendrick Lamar and Mary J. Blige are scheduled to preform during the half time show.