Dakota Ridge Women's Basketball Get Their First Win of the Season 
Dakota Ridge women's basketball (1-15) got their first win of the season against Overland High School (3-12) on January 25th. 
The Eagles had an 18-9 lead against the Trailblazers in the first quarter. This set up the rest of the game for success. 
The 2nd quarter, with the Eagles 28-15, allowing for a return to the locker room that, unlike past games, was energetic. After a short break, the Eagles would come out refreshed and ready to play.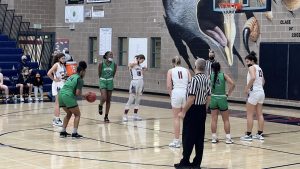 In the last 2 quarters of the game, the Eagles dominated the Trailblazers and demonstrated they were more coordinated as a team. The final score was 52-38.
After the game, students greeted players, and all had smiles. 
"We gotta keep the ball rolling, we still have 7 more games, but it feels nice to win and to see all the girls happy," head coach Rachel Caliga said.
 "I feel like I played well, but we do have a few hard games ahead of us, so we just have to prepare," junior Mia Bowser said. 
The Eagles play Lakewood High School on January 28th at Dakota Ridge.