New Hulu Series "Dopesick" Shines a Light on Current Epidemic
The epidemic that quickly swept the United States in the early 2000s has caused destruction in the medical field and left innocent people to deal with the consequences of taking one of the most addictive drugs, OxyContin. 
"Dopesick," a new limited series out on Hulu, follows our main protagonist Dr. Samuel Finnix, played by Micheal Keaton, a doctor who, among many, became addicted to OxyContin and fell victim to Purdue Pharma. 
Aside from Keaton's character, "Dopesick" also follows Betsy Mallum (played by Kaitlyn Dever), a patient of Dr. Finnix who was prescribed OxyContin, Billy Cutler (played by Will Pourter) one of Purdue Pharma's representatives who helped sell OxyContin to Dr. Finnix, and Rick Mountcastle (played by Peter Sarsgaard) and Randy Ramseyer (played by John Hoogenakker), two U.S. attorneys who are fighting Purdue Pharma. 
"Dopesick" is a phenomenal drama miniseries that explores every aspect of the opioid epidemic including the addiction and manipulation many endured over the course of only a few years. 
The limited series does a great job of not just focusing on the addicts, but others who were affected such as the doctors, the DEA agents, and the attorneys working to bring down Purdue Pharma. 
Keaton plays his character incredibly and his acting invokes difficult emotions that put you in the shoes of a substance abuser.
As we watch Finnix's journey with OxyContin, we see him mirror his patients' addiction as he turns from the kind, smart, and sympathetic doctor to a short-tempered substance abuser who continuously pushes himself further down the rabbit hole that is addiction. Watching the show allude to his dependency as he continues to take more creates a long-lasting tension, knowing what the outcome will be, yet you're on the edge of your seat, screaming at the television, hoping that he will stop before it is too late.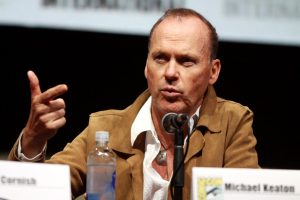 Seeing Dr. Finnix relapse only a few hours after he was released from a rehabilitation clinic was one of the most gut-wrenching moments of the series and left me speechless.
The powerful emotions portrayed by the characters in the series tear you to pieces and leave you with an emptiness that will last a lifetime. 
The series shows the difficult and sad reality of an addict as he turns to horrifying habits just to get a fix. Many will throw away their jobs, their family, their friends, and more due to substance abuse, and sadly, many will never recover. 
The cast was the perfect fit for such a sensitive and overlooked topic. The actors in this show all had unique but relatable personalities that really connected you and your emotions to the show, feeling sympathetic and angry at the fictional yet very authentic characters. 
Everything in the series ties in beautifully to create a timeline that is easy to follow and also educational to those who may not have dealt with substance abuse or know someone that has. 
By the end of the series, you will have a different outlook on pharmaceutical companies, the doctors who were affected by OxyContin, and most importantly the addicts who had a future and a goal but were all thrown away because of the lies they were fed. 
"Dopesick" provided me with a new insight into the lives of an addict, and more importantly, made me recognize how much Purdue Pharma manipulated healthcare professionals and the FDA to distribute their products for their own benefit. 
I could not recommend this series enough to those who don't understand the epidemic, or to those who are trying to gain more insight into the lives of the people who lost everything to OxyContin.