No. 2 Dakota Ridge Falls Short to No. 7 Chatfield in the 4A Quarter Finals
Dakota Ridge football fell short to Chatfield Senior High School in the quarterfinals of the 4A Colorado playoffs. They lost November 19th at Jefferson County Stadium with a score of 31 to 41. Previously, Dakota Ridge won against Longmont High School in the second round of the playoffs. 
Dakota Ridge let up a touchdown on the second play of the game on a power-run play. They would later get the ball back and tie the score, defensively getting their game together, and managing to stop the Chargers from scoring another touchdown in the first quarter. Offensively, the Eagles kept running the ball, as well as trying to go for long pass touchdowns, although unsuccessful. 
With the score at 21-14 in the first half, the Eagles were confident they could win and had to keep their energy. Chatfield kicked off the second half of the game. Dakota Ridge scored on the next drive after getting the football from the Chargers. 
The Eagles managed to get a defensive shut down after a few drives, stopping the Chargers from running the football. Offensively, the Eagles would score again, going for a 2 point conversion and successfully getting it. 
The Eagles went 3 and out on defense with Calvin Ward (11) getting an interception on wide receiver/running back Mason Lowe (11). The Chargers defensively were fired up, their student section stayed strong as well as their players. 
The Chargers, then with the ball, decided they would try something different. They called a counter reverse jet sweep run play that would be handed off to Lowe (11) for a touchdown. The score was then 31 to 21, the Chargers had fuel to try and win. 
The Eagles were then shut down by the Chargers, and the Chargers scored on the same play for another touchdown making the score 31 to 29. The Eagles were back on offense to try to score. Unfortunately, they were unsuccessful.  The Chargers, back on offense, scored for another touchdown making the score 31- 35.
Slowly discouraged, the Eagles were back on defense. With the last 2 minutes of the game, the Chargers drained the clock and got another touchdown, making the score 41 to 31.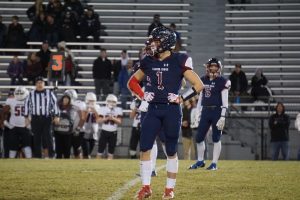 The Eagles were upset and disappointed. The Chargers, though, were fired up and ready to play in the semifinals. The Eagles ended the season with a record of  11-1 and the Chargers continued their season with a record of 9-3.
Head coach Ron Woitalewicz (Woj) said, "This is the biggest upset/disappointment of my coaching career.  I wish there was more I could have done to prepare our defense."
The Chargers won in the semifinals against Pine Creek High School 28-21 and will be playing in the 4A state championship against Erie High School at 11:00 a.m. on Saturday, December 4, at Empower Field.