Dress Code Changes at DRHS
Dakota Ridge staff confirmed changes to the dress code. After sending out a survey to the students of Dakota Ridge, staff discovered that students wanted to see clearer language and a change to the crop-top rule.
On September 22, 2021, staff began talking about the possibility of changing the dress code. There had been posters around the halls and writings on the stalls in the girls' restroom that demanded a change because of the alleged sexism implied in the wording. Staff concluded that they needed more clarification on what the student body wanted to see changed; they sent out a survey that was posted on Google Classrooms or shared in Seminars.
Dr. Jim Jelinek and other staff members used the data from a spreadsheet of results, created by science teacher Elizabeth Anderson, to revise the code. They changed the language that could've been considered sexist by the student body, mostly in item 1, according to Anderson. Phrasing such as "sexually suggestive" has been removed from the dress code entirely.
The staff also changed wording that could be considered confusing, adding a clarification as to which "undergarments" are unacceptable. It now reads, "No lower-body undergarments may be visible when in normal posture while sitting or standing."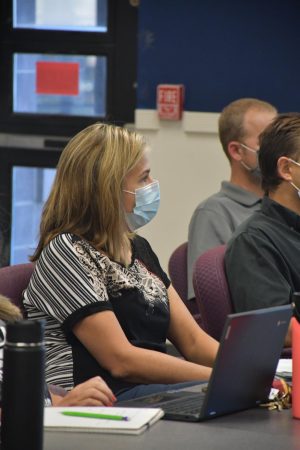 Changing the dress code is a complicated process according to Anderson.
"There's no perfect language that's going to please everyone and be really clear and easy to enforce," Anderson said.
The staff made the language in the dress code easier to understand and more gender-neutral.
"I think what I saw was a request to make our policy around dress code match more of the current cultural norms," Jelinek said, "while still understanding it's not the beach, it is a formal place of learning, but there should be a balance."
With this change, the staff hopes the students feel as though they are heard by their teachers and that topics like dress code should always be discussed if an issue arises.
"I guess my one hope would be that the students who brought the issues forward feel like they were heard, feel like there was a process by which we genuinely had a conversation with staff and meaningfully tried to find a pathway for compromise on that," Jelinek said. "I think there are always those that want us to go further, those who want us to go less further, like the mask."
To inform students and staff, there will be a slide show to review the policies on November 30, 2021, during Seminar.