Dante Capolungo and the Dakota Ridge Varsity Football Team Blazed Through This Season Undefeated
Senior varsity player Dante Capolungo is leaving a legacy as he leads the Dakota Ridge High School football team with an undefeated streak of 11-0. 
The team made quite the impact for the first real season back after Covid-19 shut down most high school sports this last year. Each member of the team brings what they have to offer to the field every game, but one member continues to stand out again and again, Dante Capolungo. 
As the team's wide receiver and defensive running back, Dante has been awarded the title "Athlete of the Week" by 9 News, along with multiple other "player of the game" titles throughout this season.
"I wouldn't be able to do it without my team,"  Capolungo said. " We all love the sport, and when we come together, we just play and do what we love most. It's got us this far, and I hope to see us go all the way." 
Football has been a big part of Capolungo's life for many years, and after his junior year season on varsity was almost entirely taken away from him due to quarantine, he came to show his talent for his last year before graduating.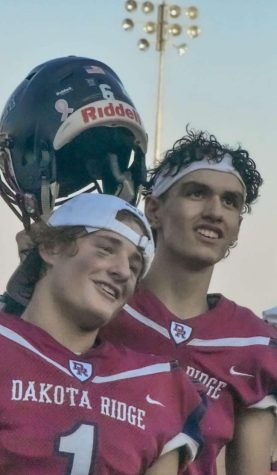 "I am upset that I didn't get all four full seasons because of everything, but there isn't anything we can do about it besides play our best this last time," Capolungo said.
Played his best he did, with 10 touchdowns, 6 interceptions, and 54 tackles this season alone, Capolungo hustled in every game, and the proof is in his stats. With new games on the horizon, his numbers will seemingly only keep adding up. 
Those games possibly leading to victory as of last Friday November 12th, the team took another win during their first playoff game against the Longmont Trojans. The streak led them down the road to championships, with State coming in quickly. 
Capolungo showed his gratitude for his team, his coach, family, friends, and his school's rowdy student section at almost every game — thanking them for the support they offer and the motivation they give him to keep going. 
The team has seen trial and error, plenty of fallbacks, and numerous victories, but the season is yet to be over. Dante Capolungo will hopefully run that ball across the field many more times as his team is set fire with his passion, perseverance, and determination.