Gage Vanner Shares Thoughts About His Final Football Season
Football season ended on a good note with the Dakota Ridge Eagles being 10-0 in national leagues. The last game of the season against Chatfield was a tight game, the final score being 29-28. 
Gage Vanner, senior varsity football player, has been playing since 2nd grade, and is ending his last year alongside his fellow teammates, accomplishing this undefeated season, leaving a mark on the school with a new record.
"I felt pure relief and happy to see we made 10-0 in the national league," Vanner said.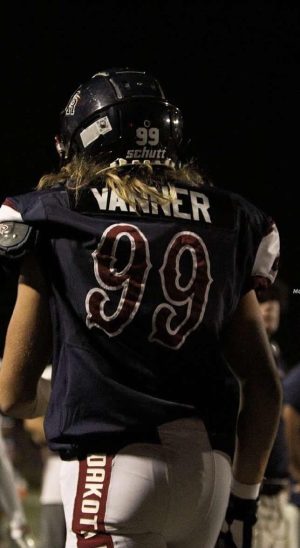 Dakota Ridge Eagles ended with an average of 43 points scored in a game and 15 scored against them. 
Vanner was encouraged to embark on his football journey by watching others.  "Seeing all of the high school football players at the time when I was old enough to start playing," Vanner said, was his inspiration.
Gage Vanner is finishing his last year playing for Dakota, in the playoffs starting this week. 
"There seems to be no stress for playoffs since we had a bye week and are able to get as ready as possible," Vanner said.
There are many advantages to having a bye week. Due to the extra time, the team is able to practice more and ensure they have the right mentality going into playoffs.