Mental Health Expert Leads DRHS Assembly
Nick Thompson, a local mental health expert, spoke to students and staff on October 28th about habits and motivation and the links to daily anxiety.
Last spring, Thompson provided a similar virtual presentation to DRHS about similar topics.
Thompson talked about his awkward experiences in high school and college, with a focus on his freshman year.
"I was stressed, I didn't know anyone," Thompson said. "I was incredibly lazy growing up, like Olympic levels." 
Thompson's main message was to move past the desire to feel motivated and instead move towards habit building. He says that building habits will lead to higher levels of success and lower levels of anxiety.
A few of the tips that were provided by Thompson included setting specific times and circumstances in which to complete daily tasks.  He also recommended preparing for the upcoming day by providing yourself with what you need for the tomorrow you.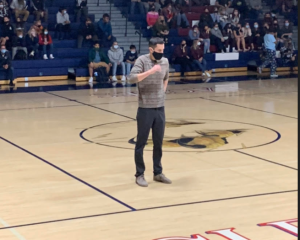 "When I was growing up, my siblings, my parents were highly productive," Thompson said in his DRHS virtual spring presentation. "It wasn't they were more motivated than me, it's they had better routines than me…If you aren't as productive as you would like to be, it's less about motivation; it's about habits."
Thompson suggests devoting time each day to the S.C.O.R.E. aspects of life.  Score is an acronym that stands for Sleep, Consumption, Outdoors, Relationship, Exercise.  Tending to these daily needs will lead to a healthier lifestyle.
Reactions to the presentation were mixed.
"He did a good job keeping student interest,  but lost us at the half way point," language teacher Kat Paez said. "It would be good to students if last fall's video was made available to students, in case they need to hear it."