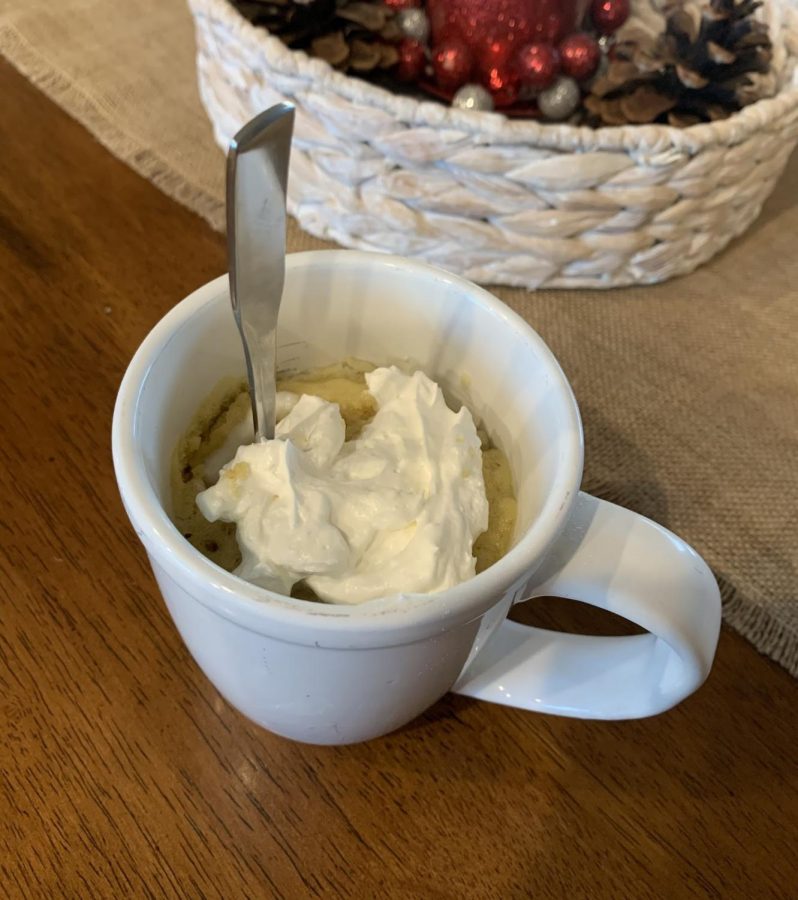 Avery Purcell
Deviously delicious, perfectly proportioned, and extremely easy, this vanilla mug cake recipe on TikTok shared by @emmasbaking provides a sure-fire, go-to, quick dessert. 
Sweet delicacy hidden in a mug is a brilliant solution to keeping sugar levels low, while also creating a feasible cooking outlet for those that aren't adept in that arena. I personally can't work well in a kitchen to save my life, but this recipe seems to have saved some face on my part. 
In addition to the simplicity of just adding ingredients into a mug and microwaving said mug, this cake can be baked in under five minutes. 
The heaps of cake batter are not missed as this small portion still manages to insinuate a sweet, vanilla aroma that induces the slightest mouth-watering. The fluffy texture of the cake was surprising, as previous recipes had taken on a certain spongy character. These ingredients, though, seemed to mix so ideally that the light dessert came out just as if baked in an oven.
I was disappointed, however, when the once-baked mug cake appeared misshaped and unlike the impeccable creation shown in the recipe video. The batter rose unevenly and was dotted with many random holes. 
The colorful sprinkles, sparsely scattered, helped the inside fluff look extremely professional, but the surface conveyed just one speck of the tasteful color. 
Another shortcoming was the unfair amount of dishes I seemed to use to create the dessert. Potentially only a lack of experience on my part, there appeared to be many measuring spoons, forks, and other random dishes left to be scoured clean.
The anticlimactic physical portrayal and the extra chore were forgotten by me, however, with the amazing adaptability and exquisite taste of the cake. 
Similar to @emmasbaking previous recipes, there are many ways this recipe can be prepared for consumption. Optional sprinkles, whipped cream, ice cream, frosting, and more leave a superb amount of choice to the baker to create a sense of pride in composing one's own masterpiece.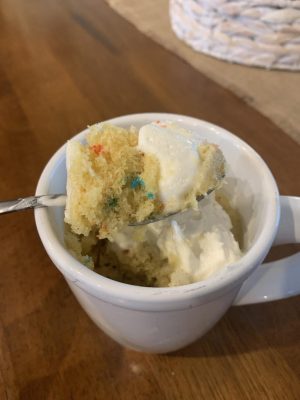 With common ingredients that for the most part can be found around the kitchen, this recipe continuously remains easy and accessible for experienced bakers to those who've never picked up a whisk. 
This vanilla mug cake recipe released by @emmasbaking has become my new favorite homemade dessert, providing a simple process, outstanding taste, luxuriant fluff, and ideal adaptability.