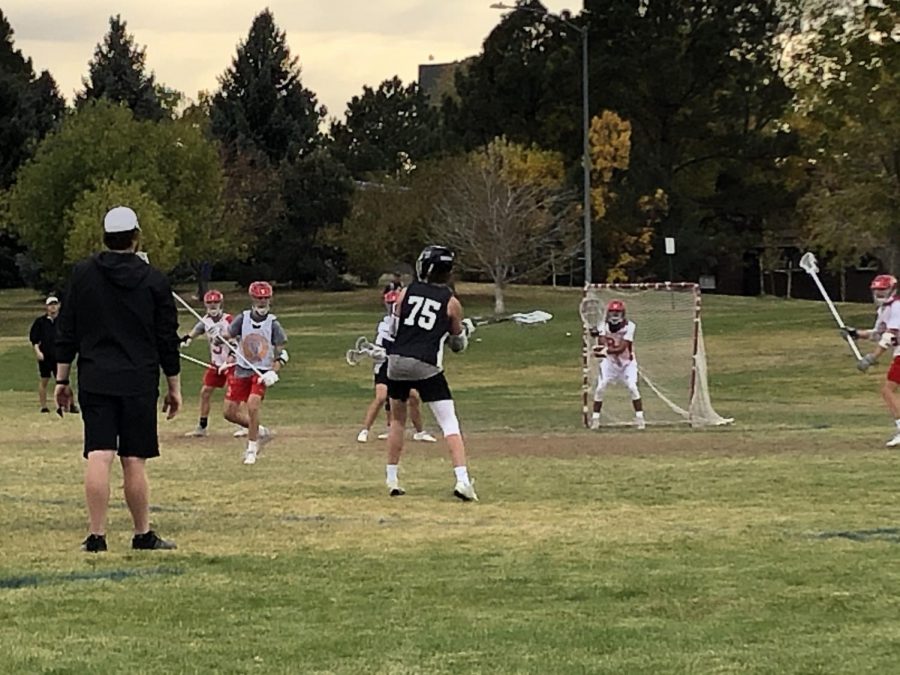 Karen Flanagan
Dakota Ridge men's varsity lacrosse clashed with Regis during pool play for fall championships on October 17. The Eagles lined the field with only fourteen players, while Regis dominated the sideline with a roster of nearly thirty. 
"From the start of the game, I knew it was going to be a fight," junior midfielder Josh Flanagan said.
Taking the field, Dakota Ridge player Wyatt Robertson won the first face-off setting the pace for the game. After a three minute possession, Dakota scored bringing an early lead.
After the first goal, Dakota ceded a face-off leading to the need for a defensive stand. As Dakota stood stout, freshman Jeremiah Leafblad scored a takeaway leading to an offensive possession. Dakota quickly put another ball in the back of the net running the score up 2-0.
Immediately after Dakota scored, Regis won a face-off and scored on a fast break.
After a short defensive stand, The Eagles scored another takeaway leading to a fast break goal bringing up the score 3-1.
In the next faceoff, Dakota once again ceded a face-off and allowed Regis to score another point. Regis trailed 3-2. Before the end of the first half, Dakota held possession and put another goal in with twenty seconds remaining. The half ended with a score of 5-2.
Regis came out of halftime on their toes immediately scoring two points to tie the score 4-4.
Dakota Ridge faulted a penalty allowing Regis to gain a man-up possession. Regis took full advantage of this, scoring another goal and taking the lead 5-4. 
However, Dakota refused to go down easy and scored a goal rapidly after the next face-off, ending the third quarter with a score of 5-5.
Breaking into the fourth quarter Dakota quickly took the lead scoring a goal to make the score 6-5. 
Regis won the next face-off and possessed the ball for a majority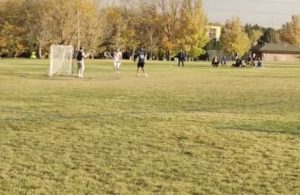 of the quarter. As time ticked down, Regis put in a goal tying the score and ending regulation time. 
In overtime, junior Wyatt Robertson and sophomore goalie Logan Dobrowski represented Dakota Ridge in a braveheart. Robertson won the initial face-off but missed his shot. However, Dobrowski stood tall and saved the incoming shot from Regis — he quickly picked up the ball and took it to the other side of the field.
After two losses of possession and being knocked to the ground, Dobrowski dived in front of the goal to score and win the game. Dakota walked away winning 7-6. Logan Dobrowski joked, "It was pretty casual, like another day in the office." Dakota would go on to face Lutheran High School in the semi-final later that day.