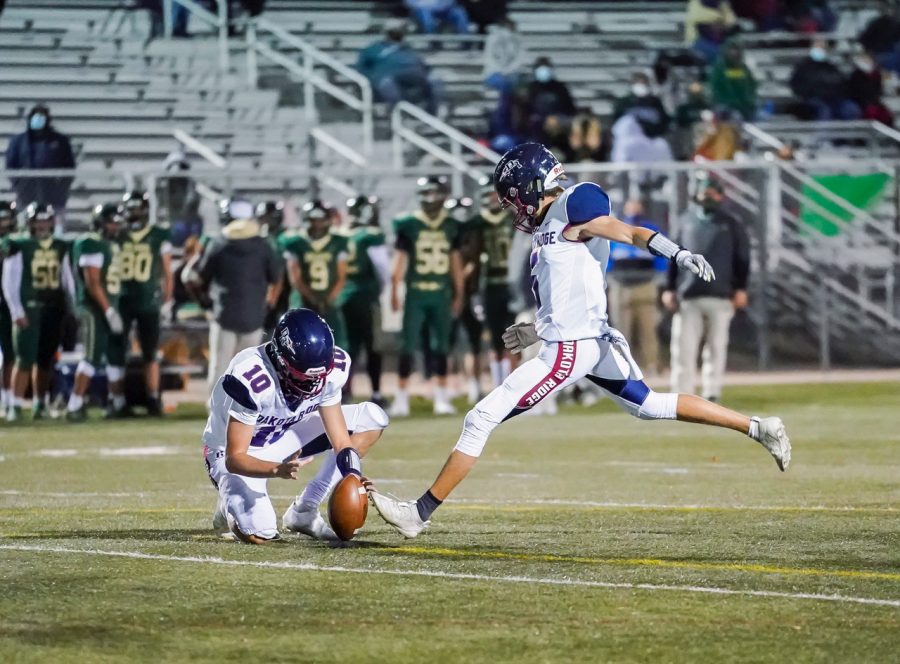 Flip Dalfonso
The Dakota Ridge Eagles dominated Bear Creek High School at the varsity football game this Thursday, October 15th. A well-rounded team, Dakota's offense and defense put the pressure on the Bears, pushing for victory. 
Ending the game with a 48:14 score, the Eagles brought their power for some plays leaving the fans in awe. Sophomore running back Noah Triplett made his first score of the year, swiftly spinning around the Bear's defense to make a touchdown, bringing the score to 20:0 at the end of the first quarter. 
Only moments later with eight minutes and 30 seconds left in the second quarter, junior defensive back Dante Capoulungo made his third passing touchdown of the season, bumping the Eagle's points to 26:0. 
To maintain the second-quarter onslaught, with 3:40 left, Dakota senior wide receiver Mason Galbreath made a quick touchdown, and senior wide receiver/kicker Max Hart got the field goal for a 34:0 Eagle's lead.
"We worked together very well…we have a bond better than any team out there," Dakota sophomore running back/kicker Landon Giebler said. 
This bond seemed to help gain the Eagles their second victory of the season, with no losses thus far.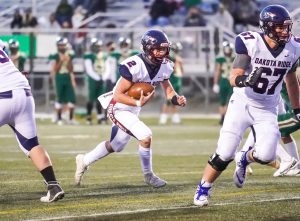 Dakota senior defensive back Charlie Offerdahl made a bewildering touchdown only just after the second-half kickoff. 99 yards back, Offerdahl slipped a tackle and ran the field for a touchdown that shot the score up to 48:0 with 11 minutes left in the third quarter.
With the chill of October and the CHSAA regulations forcing the clock to run the entire second half, the game wasn't glorious for all. Near the end of the first quarter, Bear Creek senior wide receiver/defensive back Wes Garrett had to leave the field from an unfortunate ankle injury. 
The Bears fought hard though, raising their offensive game near the end of the third quarter. Bear Creek senior defensive back/wide receiver Nathon Ramos boosted the score to 48:6 (Eagles in lead) with a triumphant touchdown made with junior quarterback/defensive back Jaedon Minter. 
The Bear's second triumph came with just 2:42 left in the game, with junior running back/linebacker Ryan Segovia scoring his second touchdown of the year and raising Bear Creek's points to 13. With 1:33 left in the game, the Bears made the field goal and finished the night with 48:14 (Eagles). 
Dakota Ridge successfully took down the Bears, despite being the away team at Trailblazer Stadium. 
"I'm proud of just winning and how everyone played," Giebler said. 
The Eagles have high hopes for the season and are working hard to prepare for their next game against Standley Lake High School on Thursday, October 22.