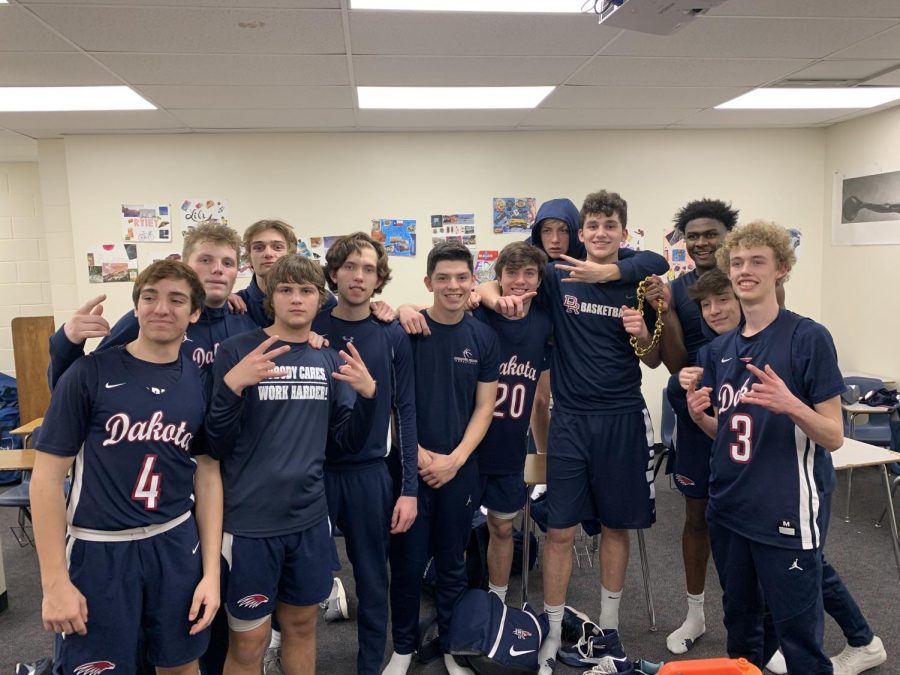 Photo Creds: Rudy Rodriguez
The first round of the CHSAA 5A State playoffs was held on Wednesday, February 26th. The Dakota Ridge Eagles found themselves matched up against the Doherty Spartans. The Eagles came into the game as the 41st seed, and Doherty the 24th seed, making the Eagles the underdogs. 
The Eagles knew that, being the underdogs, they had very little respect from the higher seed, and saw it as motivation.
"The disrespect felt like a slap in the face, and then I realized what I have to do and what my team has to do in order to win that game," Gino Corridori (11) said.
The Eagles came out motivated as they were battling back and forth with Doherty and keeping it very close throughout the first quarter, although the Eagles found themselves down 10-8 after the first 8 minutes of play. Going into the second quarter, the Eagles had the wheels turning and showed they can compete with the Spartans. Dakota Ridge won the second quarter and managed to take a 28-26 lead at the half.
In the second half, the Eagles continued to play like it was their game and were giving it their all. Motivated by the idea of disrespect kept fueling the team and allowed the Eagles to keep fighting and keep the game close. There was no sign of either team pulling away as the game continued neck and neck. But at the end of the third the Eagles were down and Doherty led 37-36.
The fourth quarter was a quarter that will stick with the Eagles for a long time. Going in tied, Dakota showed they weren't going to back down and let their season end. The quarter was back and forth, and in the final minute, Eagles Center Gino Corridori was fouled and went to the line with two free throws and a chance to tie the game at 49.
"After I got fouled I realized that this was the senior's final season, and the team's season was basically resting on my shoulders at that moment, and these will be the most important shots of my high school career…maybe," Corridori said. "After every practice, I was shooting 50+ free throws, too, so I knew I was ready to make those free throws."
Corridori made his free throws and tied up the game. Immediately after, Doherty called a timeout with 21 seconds left to try and win the game. When both teams stepped back on the court, and Doherty started their play, they chewed down the clock and got a shot off with 6 seconds remaining, but the shot didn't fall, and the Eagles' Taeshaud Jackson (11), grabbed the rebound and took off down court, and put up a lay up at the buzzer to stun the Spartans and win 51-49.
"When I got the rebound I knew I had to make a play instantly, just having a visual of how much time was left on the clock trying to rush down the court and win the game for my team," Jackson said. "After I made the shot my mind was racing. I was really just nervous to see if the refs were going to count it or not, but when they did, I was super excited for my team knowing we had won the game."